Elisabetta Lauro / Gennaro Lauro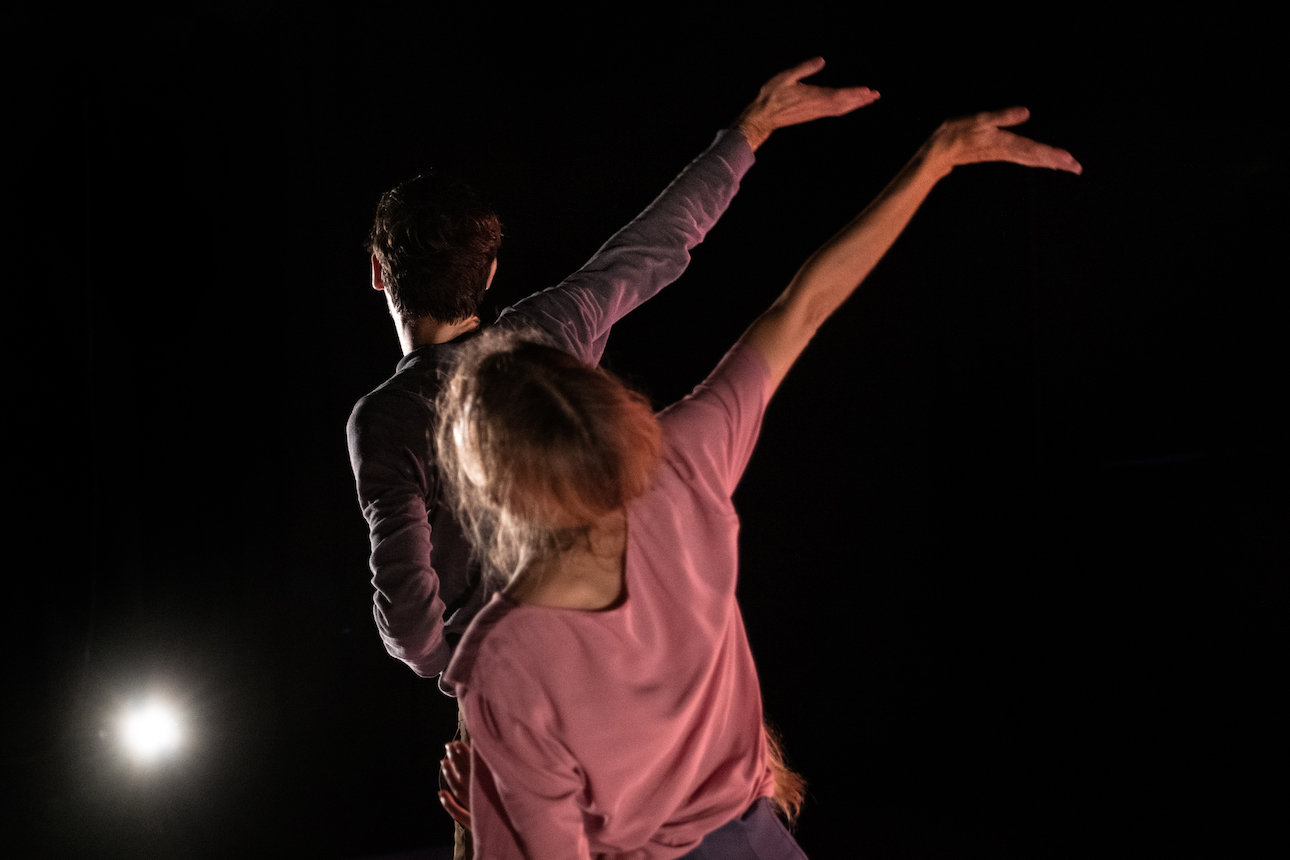 by and with Elisabetta Lauro and Gennaro Andrea Lauro
music Amedeo Monda
lights Tea Primiterra
production Sosta Palmizi, Compagnie Meta (France), Cuenca/Lauro (Germany)
co-production FESTIVAL DANZA IN RETE – Teatro Comunale Città di Vicenza
The project has been realised with the support of ResiDance XL – venues and projects of art residency for choreographic creations, conceived by Rete Anticorpi XL – Network Giovane Danza D'autore and organised by L'arboreto – Teatro Dimora di Mondaino in collaboration with Teatro Akropolis, OperaEstate, Teatro Pubblico Pugliese – Consorzio Regionale per le Arti e la Cultura, Comune di San Vito dei Normanni,TEX – Il Teatro dell'ExFadda with the support of CSC di Bassano del Grappa
the project has also been hosted by Festa di Teatro Ecologico di Stromboli, Teatro in-folio / Residenza Carte Vive, Invito alla Danza – Barletta, Ménagerie de Verre – Paris, CND – Paris, CENTQUATRE- Paris

lenght 50′ ca
"Whoever tries to interpret the world as an enigma is moved by a serious, steely, deep and violent instinct, by the feeling that at the bottom of things there is a common thread which – once discovered – will allow us to outline a way out of the labyrinth; and he is moved also by a playful, light-hearted instinct, eager for all that is unexpected, that is, by the feeling of exaltation given by the slow and accurate act of unveiling what is unknown"
Giorgio Colli – Philosophy of Expression
In the game of chess Zugzwang refers to the moment when the player is compelled to make a move, although he may feel it is impossible, since he knows that any move would make him lose something, if not everything. What to move, then? And how? To what extent, is movement a vital impulse and when does it become an escape or a stalemate?
Two individuals, brother and sister, find themselves like pawns on a chessboard, a labyrinth made of figures in which all their possibilities of movement and relation are encased. Every figure they cross is a world, an enigma to face and decode. Through deviations, tangles and impasses they try to disarm the game and bend the rules, questioning how much freedom one can have within a preset order.
"Flesh, gazes, lips, drops of sweat: the Lauros' dancing is physical and, at the same time, spiritual. Because their not seeing and then looking for each other or their performing everyday gestures that become denser through their presence, all this shapes the image of a mutual going one toward the other to eventually blend into a common past, into that memory which is living even when it seems extinguished and which, by emerging, makes our encounters possible."
Elena Nieddu, L'invito
In our research we have focused on the image of ZugZwang, that is the specific moment of the chess-game when the player is compelled to make a move, although he knows that he would not take any advantage from that. The player has then to make a sort of passive move, which is useful to the game in itself rather than to his personal play.
What we find interesting in this situation is the fact that the player realizes for the first time that he is not the one conducting the game, but that he is actually part of it.
Game is what tames us, and the closed syntax of the chessboard becomes more important than the player's freedom of moving. In order to continue his own play, the player shall develop an new awareness and consider that his possibility of moving already belong to the labyrinth of directions and relations established by the logic of the game.
Transposed in other contexts of our life, the syntax of the chessboard reminds us of a certain constricting logic that defines our identities and our presence in the world as well as the hierarchic pattern of relations in which we grew up and therefore our alleged possibilities.
Our dilemma is whether we should act like the player, continuing to move in compliance with rules, or not. Or – third possibility – should we embrace the this impasse as a challenge and search for a new way of moving, a way that may push us to go beyond, although remaining where we have always been.
While developing these considerations, we have worked more concretely on a choreographic composition based on a fundamental pattern of movement repeatedly involving a range of 64 figures, thus recalling the squares of the chessboard. These figures are linked to each other though a complex structure of preset relations, like in a family tree. Our goal has been to weave an intricate and labyrinthine web of directions, where moving is somehow a constricting possibility, but we have also questioned whether and how such a structure can crack.
We share the stage with the musician Amedeo Monda, with whom we have been working on a web of sounds and musical themes that may match with our choreographic weave. In our research on lighting we work with the lighting designer Tea Primiterra.
The question that continues to inspire us is: can the crack become a glimmer?
by and with Elisabetta Lauro and Gennaro Andrea Lauro
music Amedeo Monda
lights Tea Primiterra
production Sosta Palmizi, Compagnie Meta (France), Cuenca/Lauro (Germany)
co-production FESTIVAL DANZA IN RETE – Teatro Comunale Città di Vicenza
The project has been realised with the support of ResiDance XL – venues and projects of art residency for choreographic creations, conceived by Rete Anticorpi XL – Network Giovane Danza D'autore and organised by L'arboreto – Teatro Dimora di Mondaino in collaboration with Teatro Akropolis, Teatro Pubblico Pugliese – Consorzio Regionale per le Arti e la Cultura, Comune di San Vito dei Normanni,TEX – Il Teatro dell'ExFadda with the support of CSC di Bassano del Grappa
the project has also been hosted by Festa di Teatro Ecologico di Stromboli, Teatro in-folio / Residenza Carte Vive, Invito alla Danza – Barletta, Ménagerie de Verre – Paris, CND – Paris, CENTQUATRE- Paris

lenght 50′ ca
Other productions by Elisabetta Lauro
Other productions by Gennaro Lauro