Invito di Sosta, danza contemporanea d'autore takes place in the territory of Arezzo since 2008.
Aimed at a public with a passion and interest for the world of contemporary dance, artistic experiemnt and research, Invito di Sosta continues to grow presenting repertoire works as well as debuts and previews. The festival is now recognized for its importance on a National level as well as being a much appreciated destination for young choreaographers and already established companies. Masterclasses and encounters with choreographers and performers take place in conjunction with the actual performances.
In the early years, Invito di Sosta was hosted in Teatro Signorelli in Cortona, Teatro Rosini in Lucignano, Teatro Mario Spini in Castiglion Fiorentino and Teatro Pietro Aretino in Arezzo and, as of 2012, in Teatro Mecenate in Arezzo.
Nourishing the eye with beauty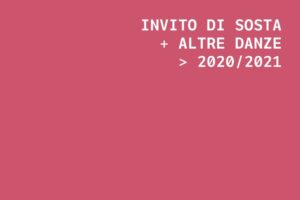 Nourishing the eye with beauty embraces the two historical seasons Invito di Sosta and Altre Danze in a renewed and necessary form of diffusion, in intent and space, of contemporary dance
Invito di Sosta 2020/21 | Nourishing the eye with beauty
Saturday 27 March 2021 ore 21:00
Invito di Sosta/ In streaming
di e con Elisabetta Lauro
collaborazione artistica Cèsar Augusto Cuenca Torres
supporto drammaturgico Gennaro Lauro
assistenza tecnica Gaetano Corriere
produzione Cuenca/Lauro
coproduzione Sosta Palmizi
con il sostegno di Associazione Invito alla Danza
Selezionato per il progetto FabricAltra/Rigenerazione degli spazi industriali- Schio
foto Luigi De Frenza e Elisa Nocentini
Solo – produzione 2021 – durata 45 minuti
Sunday 11 April 2021 ore 21:00
Invito di Sosta/ Streaming
di e con Zoé Bernabéu, Lorenzo Covello
musiche Stefano Grasso
luci Paride Donatelli
produzione Muxarte/PinDoc
vincitore dei premi Miglior spettacolo Direction Under 30 2019 – Special OFF e Spirito Fringe al Roma Fringe Festival 2019 – finalista Intransito 2019 – selezione Visionari 2020 Kilowatt Festival –  finalista ACT Festival Bilbao 2020 – finalista Crashtest festival 2020
due interpreti – produzione 2019 – durata 55'
> Lunedì 12 aprile alle ore 18:30, diretta Facebook aperta al pubblico
Zoé Bernabéu e Lorenzo Covello in dialogo con Simona Frigerio – Caporedattore di Persinsala.it e vice-direttore del Settimanale Theblackcoffee
Calendario Invito di Sosta 2019 -'20