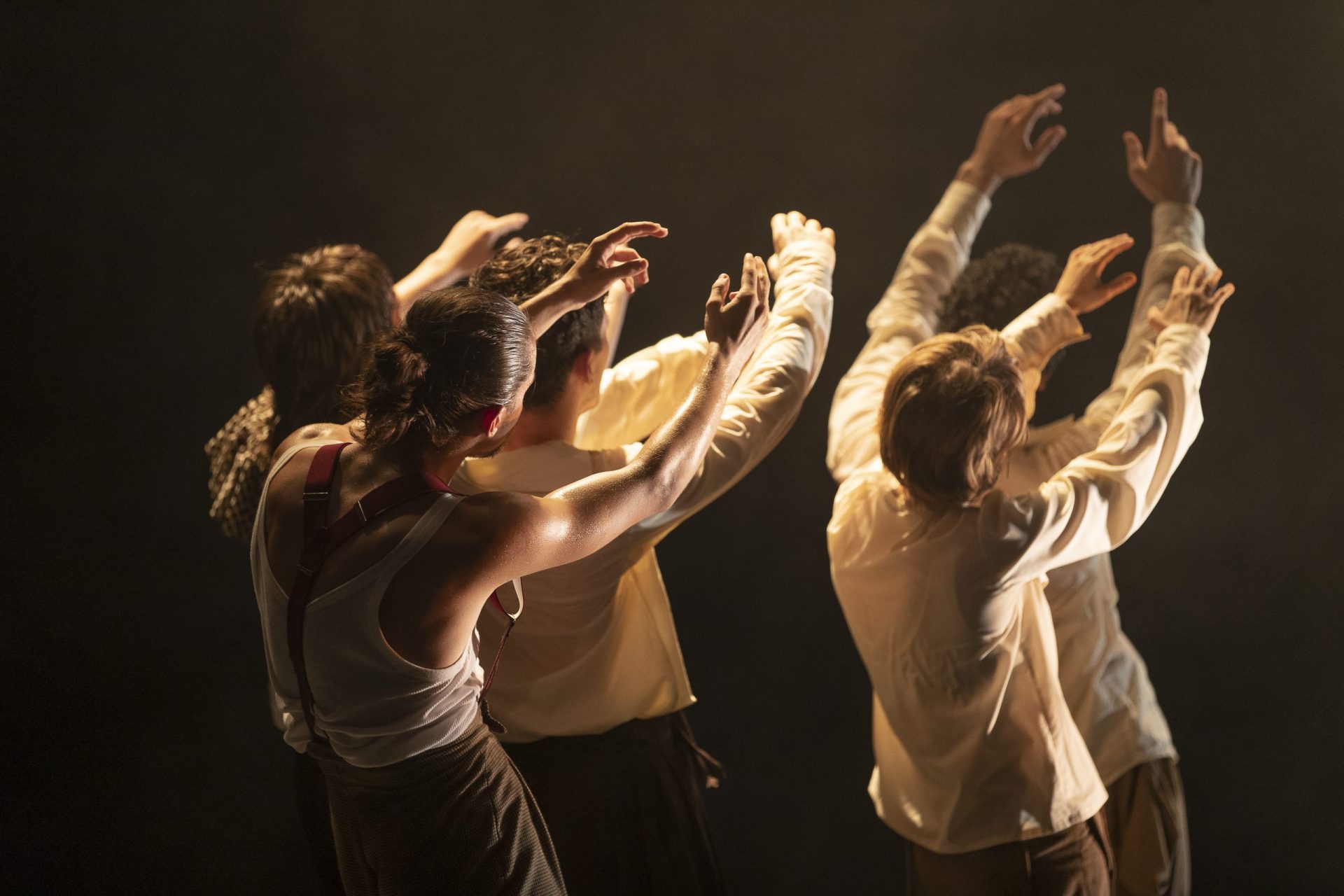 artistic direction & choreography Sofia Nappi
dancers Arthur Bouilliol, Leonardo de Santis, Glenda Gheller, India Guanzini, Paolo Piancastelli
costume designer Luigi Formicola; costumes realised by Silvia Salvaggio e Elisa Varvarito, thanks to the collaboration with Manifatture Digitali Cinema Prato di Fondazione Sistema Toscana
choreographer assistant Adriano Popolo Rubbio
lights Alessandro Caso
production Sosta Palmizi, KOMOCO/ Sofia Nappi
co-production La Biennale di Venezia, COLOURS – International Dance Festival, Centro Coreográfico Canal
residency supported Orsolina 28, Centro di Residenza della Toscana (Fondazione Armunia Castiglioncello – CapoTrave/Kilowatt Sansepolcro), Opus Ballet Firenze, Istituto Italiano di Cultura di Madrid
Tour management ecotopia dance productions

Selected for Bando Abitante/ Centro Nazionale di Produzione della Danza Virgilio Sieni e Fondazione CR Firenze
Thanks to PARC Performance Arts Research Centre di Firenze
The universe is movement itself, pleasure to create, vitality that constantly renews: everything is dance. In this perspective is implicit the message: you are not alone; however precarious, isolated, or desperate you may feel, you participate in one immense dance; […] If you want to become aware of this union and perceive reality in its deepest essence, dance.
"Esperienze delle Vette" by Piero Ferrucci
Ima is a Japanese term for 'the present moment'; in Aramaic and Hebrew Ima also stands for 'mother', in its meaning of rebirth and renewal.
IMA quintet was imagined during the period of social distancing. We found ourselves alone in our true home – our body – where the main tangible and temporal dimension is the present, and our existence becomes more sensitive to small things. In this space, the need to relate to the other, in the absence of physical contact, leads to a deep sense of connection and longing for co-creation. Being alone with our bodies makes us perceive that everything, inside and around, has not stopped, on the contrary it keeps existing in a dance of universal interconnection
*Ima had a first presentation, in its short version (20 min) at 14° Festival of contemporary dance of Biennale di Venezia on 22nd october 2020, commissioned by the director Marie Chouinard.
artistic direction & choreography Sofia Nappi
dancers Arthur Bouilliol, Leonardo de Santis, Glenda Gheller, India Guanzini, Paolo Piancastelli
costume designer Luigi Formicola; costumes realised by Silvia Salvaggio e Elisa Varvarito, thanks to the collaboration with Manifatture Digitali Cinema Prato di Fondazione Sistema Toscana
choreographer assistant Adriano Popolo Rubbio
lights Alessandro Caso
production Sosta Palmizi, KOMOCO/ Sofia Nappi
co-production La Biennale di Venezia, COLOURS – International Dance Festival, Centro Coreográfico Canal
residency supported Orsolina 28, Centro di Residenza della Toscana (Fondazione Armunia Castiglioncello – CapoTrave/Kilowatt Sansepolcro), Opus Ballet Firenze, Istituto Italiano di Cultura di Madrid
Tour management ecotopia dance productions

Selected for Bando Abitante/ Centro Nazionale di Produzione della Danza Virgilio Sieni e Fondazione CR Firenze
Thanks to PARC Performance Arts Research Centre di Firenze