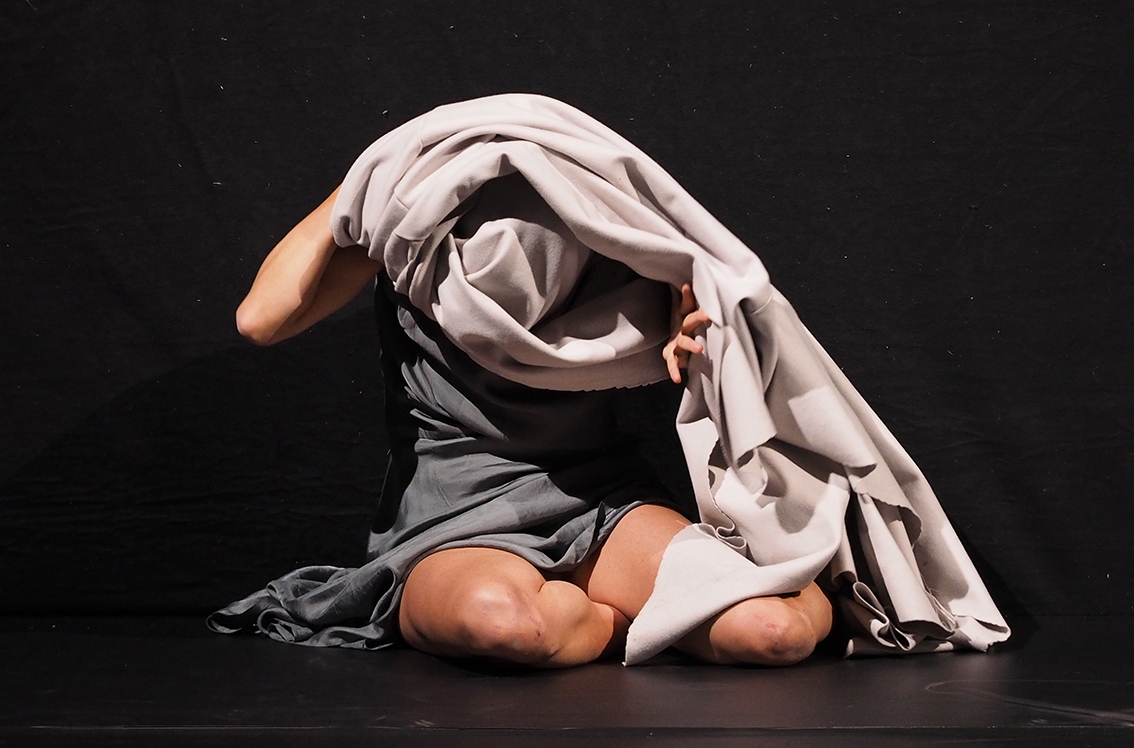 by and with Cecilia Ventriglia
dramaturg Cinzia Sità
costumes and care Barbara Lachi
sound design Nicola Frattegiani
light design Gianni Staropoli
technicians Marco Angelici e Fabio Sunzini
production Associazione Sosta Palmizi
supported by C.U.R.A Centro Umbro Residenze Artistiche, Micro Teatro Terra Marique e Corsia Of,  Teatro dell'Accademia di Tuoro (PG), Studio Aira (AP),  Vivo e Aula Verde (Castel Trosino AP)
thanks to ALDES/SPAM! rete per le arti contemporanee
40 minutes
The project was inspired by a rewriting of the fairy tale Rosaspina (The sleepinh beauty by Brothers Grimm) by the illustrator and writer Barbara Lachi. In the rewriting, not published yet, Rosaspina talks about her sleep and dreams.
The coreographic creation interprets the text in a free way, digging into not only Rosaspina's soul but in which of every one.
Rosaspina is immersed in a long and deep sleep as an apparent death in a stopped time, suspended time in search of her self on a oniric journey through the hidest tracks of herself to get the courage to reveal herself. to born or reborn.
Time of night and dreams is preciouses, that's the moment when some doors are closed and others are opened allowing the own special mysterious world to join.
In the distance sounds and noisy interferences appear and desappear togheter with the wakes of thoughts as a driving forces that wake up the spleeping body.
The wonderfull is the emptiness that opens, the chance to open hands and arms, the tremor of letting things go, of being in the absence of signs, of meaning, of saves, of alliances. Nothing, absolutely nothing.
Chandra Livia Candiani
by and with Cecilia Ventriglia
dramaturg Cinzia Sità
costumes and care Barbara Lachi
sound design Nicola Frattegiani
light design Gianni Staropoli
technicians Marco Angelici e Fabio Sunzini
production Associazione Sosta Palmizi
supported by C.U.R.A Centro Umbro Residenze Artistiche, Micro Teatro Terra Marique e Corsia Of,  Teatro dell'Accademia di Tuoro (PG), Studio Aira (AP),  Vivo e Aula Verde (Castel Trosino AP)
thanks to ALDES/SPAM! rete per le arti contemporanee
40 minutes
Progetto Aperture, Teatro Mecenate, Arezzo
Ritratti d'artista, Chiesa di San Pietro in Castello, Ascoli Piceno (AP)
Progetto Aperture, Fratta Santa Caterina, Cortona (AR)
Festival Y Generation, Teatro Sanbapolis, Trento