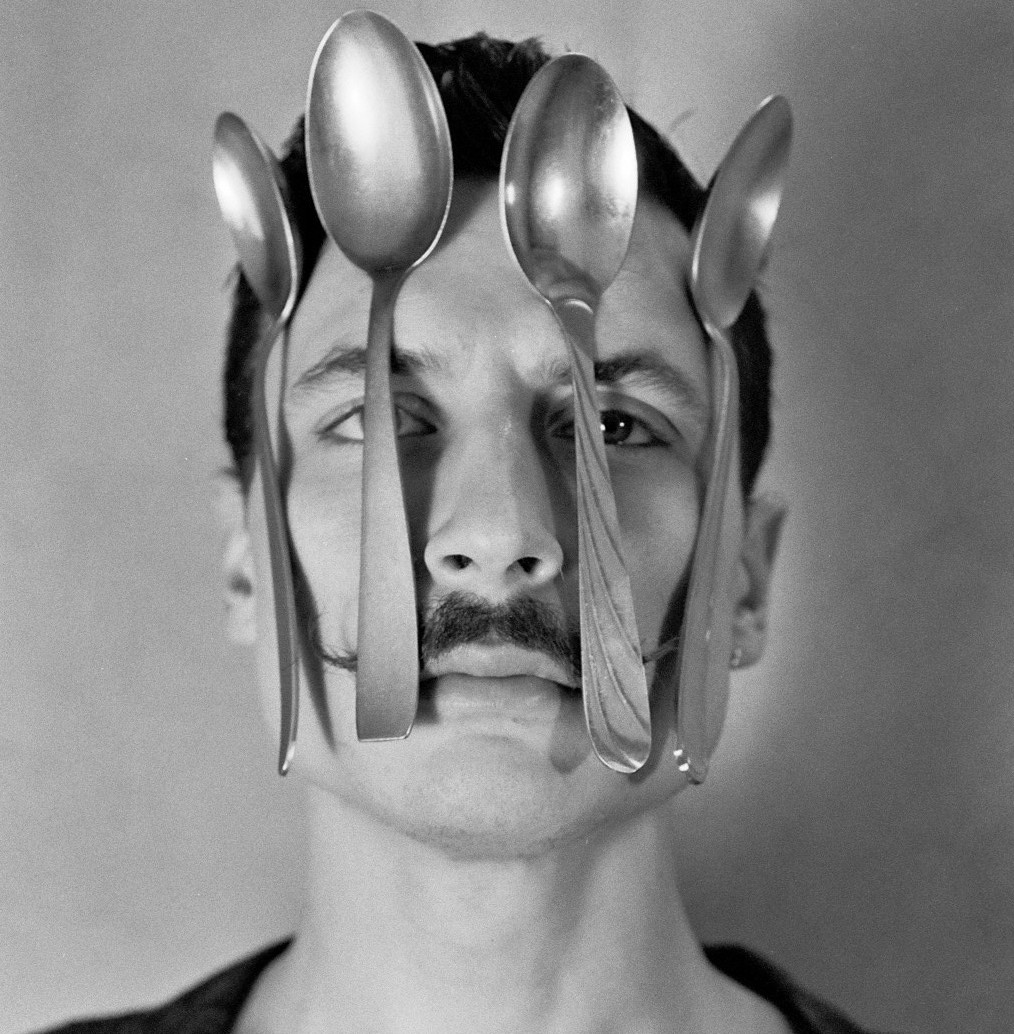 written and directed by Giacomo Costantini
with Uomo Calamita, Wu Ming 2, Cirro
text and original book Wu Ming 2
music Fabrizio "Cirro" Baioni
design, machine construction and scenes Simone Alessandrini
outside eye Giorgio Rossi
inner eye Fabiana Ruiz Diaz
dramaturgy consultant Luca Pakarov
costumes Beatrice Giannini
lights Domenico De Vita
production Circo El Grito
co-produced by Fondazione Pergolesi Spontini, Sosta Palmizi
realised thanks to the support of talian Ministry of Cultural Heritage and Marche Regional Authority
An absurd superhero fights the absurdity of war, through tightrope walking of the body and tongue, in a spectacle that fuses the gestures of a circus artist with the words of a story and the notes of a musical score. Circo El Grito and Wu Ming Foundation cross their paths again in "L'Uomo Calamita", an extraordinary show of contemporary circus, illusionism, music and literature written and directed by Giacomo Costantini. Between daredevil acrobatics, drumbeats and surreal magic, the live voice of Wu Ming 2 guides the spectator through a sequence of events mingling story and fantasy, that of a clandestine circus during the Second World War.
On 11 September 1940, the chief of police issued a telegraphic circular ordering that all circuses and caravans be checked so that they could be "rounded up and concentrated under strict surveillance". The Magnet Man and other side show find themselves without a tent, without work and wanted by the police. Eight-year-old Lena finds herself without her favourite superhero and without the show she had been waiting for the year before. To escape persecution, the circus performers are forced to go into hiding but, with Lena's help, they use their powers, cunning and magnetism to fight Nazi-fascism.
A performance that contaminates the language of the stage and that of paper, which leaves the public with bated breath while the Magnet Man (Giacomo Costantini) secretly rehearses his dangerous magnetic balancing acts. And if his virtuosity in height isn't enough to make you tremble, Cirro takes over on the drums, venting all the anger he has accumulated since the Nazis killed his brother.
Wu Ming 2 not only tells their story but also takes part in it. In fact, he will be the one to perform an exercise on the success of which the life of the Magnet Man will depend. "We are circus people, when we challenge death we do it seriously", says Costantini: that's why in one of his acts the Magnet Man is chained up, hanging by his feet, immersed in a tub of water
written and directed by Giacomo Costantini
with Uomo Calamita, Wu Ming 2, Cirro
text and original book Wu Ming 2
music Fabrizio "Cirro" Baioni
design, machine construction and scenes Simone Alessandrini
outside eye Giorgio Rossi
inner eye Fabiana Ruiz Diaz
dramaturgy consultant Luca Pakarov
costumes Beatrice Giannini
lights Domenico De Vita
production Circo El Grito
co-produced by Fondazione Pergolesi Spontini, Sosta Palmizi
realised thanks to the support of talian Ministry of Cultural Heritage and Marche Regional Authority