Soggetto senza titolo (2016)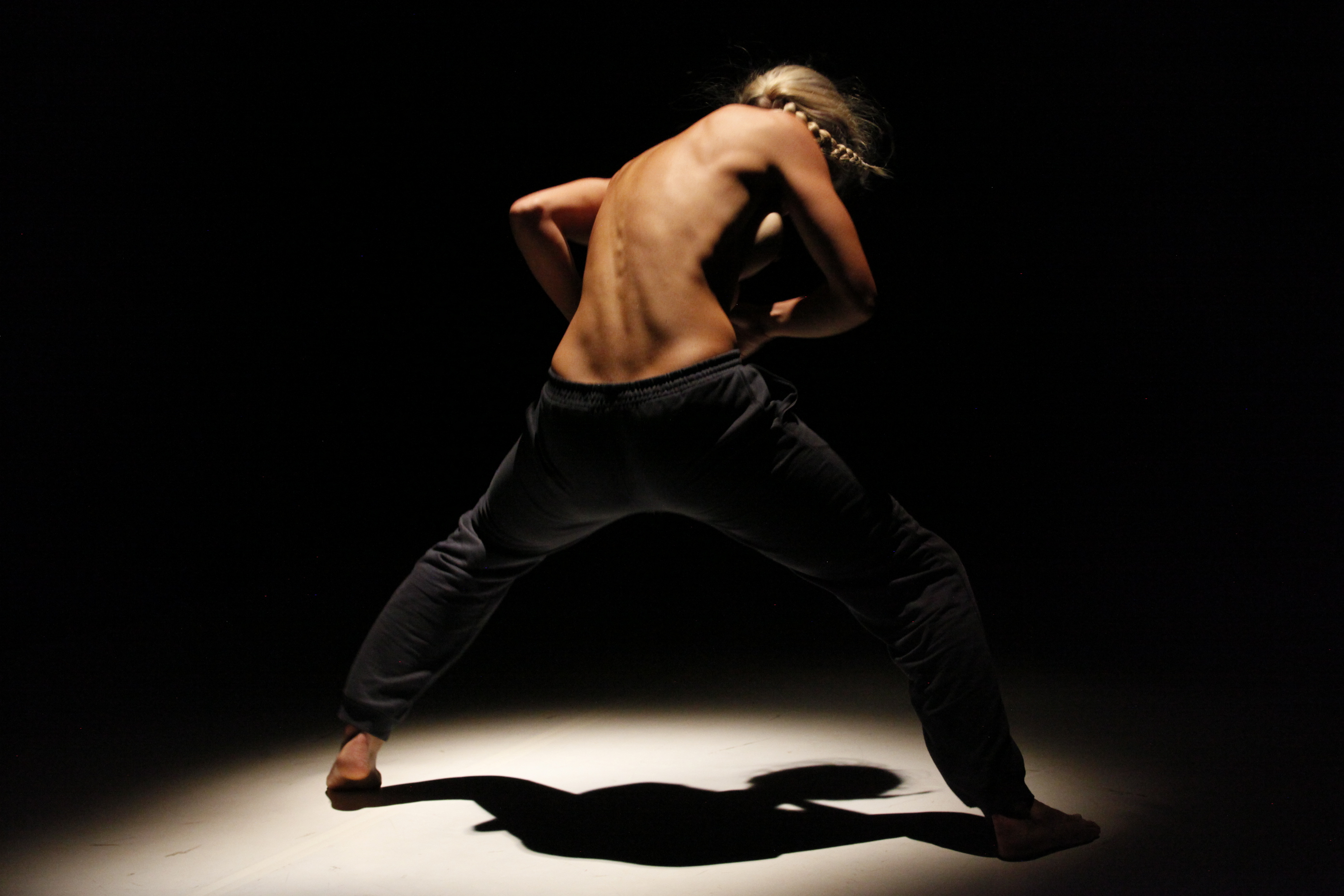 interpreter and coreographer Olimpia Fortuni
dramaturg Cinzia Sità
sound landscape Pieradolfo Ciulli and Danilo Valsecchi
light design Andrea Rossi
production Associazione Sosta Palmizi
with the support of MiBACT, Ministero per i Beni e le Attività Culturali e del Turismo/Direzione
generale per lo spettacolo dal vivo; Regione Toscana/Sistema Regionale dello Spettacolo
special thanks to Teatro la Cavallerizza/Torino, Michela Lucenti and Balletto Civile, Alessandra
Bordino, Erica Archinucci
Selected by Network Anticorpi XL 2016 and Visionari Kilowatt Festival 2017, winner of the
audience award GD'A 2017, Soggetto Senza Titolo is the latest work by the 30 years old italian
30 minutes
Soggetto Senza Titolo is a painting on the wall that comes to life.
It 's a nocturnal journey .
The blue which dissolves in space.
Abandoned and lonliness in the blinded cities.
I am more than one thing and I change continiusly.
I do not grasp the idea of time and only in this way I found myself.
"Soggetto senza titolo" is a journey.
The body's journey in search of human being. It is a stream of consciousness translated into a body that changes its material state and unravels its journey in three movements (present, past, future), where the unreal merges with the real, in one dreamlike dimension. It's an intimate, but a the same time open dilogue with those who appear to offer their own gaze. Bodily matter is exposed to a continuous metamorphosis that evolves and transforms. Without a form, or a name, that can
limit it. Like an inkblot, which expands without a container, try to search a truth. Go down where it is darker to touch his skin from the inside and there to find the essence, the root of his being…living.
interpreter and coreographer Olimpia Fortuni
dramaturg Cinzia Sità
sound landscape Pieradolfo Ciulli and Danilo Valsecchi
light design Andrea Rossi
production Associazione Sosta Palmizi
with the support of MiBACT, Ministero per i Beni e le Attività Culturali e del Turismo/Direzione
generale per lo spettacolo dal vivo; Regione Toscana/Sistema Regionale dello Spettacolo
special thanks to Teatro la Cavallerizza/Torino, Michela Lucenti and Balletto Civile, Alessandra
Bordino, Erica Archinucci
Selected by Network Anticorpi XL 2016 and Visionari Kilowatt Festival 2017, winner of the
audience award GD'A 2017, Soggetto Senza Titolo is the latest work by the 30 years old italian
30 minutes
length 30'
Da vicino nessuno è normale, Ex Ospedale Psichiatrico Paolo Pini, Milano
TanzArt Ostwest Festival Giessen-Germania
Fabbrica Europa, Stazione Leopolda, Firenze
Teatro Cesare Volta, Pavia
La Fabbrica del Vapore, Festival del silenzio, DID Studio Milano
Sementerie Artistiche, Crevalcore (BO), Rassegna Nebbia
Gd'A Gala, Salone Snaporaz, Cattolica (RN)
Invito di Sosta X, Teatro Mecenate, Arezzo
Festival Caffeine.08 Incontri con la danza, Auditorium Comunale Merate, (LC)
Premio GD'A Network Anticorpi XL, Auditorium Cavallerizza, Reggio Emilia
Kilowatt Festival 2018, Teatro della Misericordia,
Festival Bolzano Danza, Atrio Camera di Commercio, Bolzano (BZ)
Rassegna 40zero54, Torri dell'Acqua, Budrio, (BO)
Azioni in danza, Chiesa di Sant'Antonio Barletta
Serata Anticorpi, Teatro al parco, Parma
Villa Rossi Martini, Genova
Serate Anticorpi EXPLO – tracce di giovane danza d'autore, Teatro Sala Fontana, Milano
Rassegna Anticorpi, Teatro Nuovo, Napoli
Passages , Sala Cutu,Perugia
Rassegna a maglie larghe, Laboratorio Urbano Rigenera, Palo del Colle (BA)
Rassegna A maglie larghe, Terlizzi (BA)
Festival Fuoristrada, Teatro Comunale di Ferrara
FIND, Galleria Comunale, Cagliari
Festival di danza urbana e d'autore Ammutinamenti , Sala espositiva Mar-Museo, Ravenna
Fratta Santa Caterina, Cortona (AR)
Other productions by Olimpia Fortuni