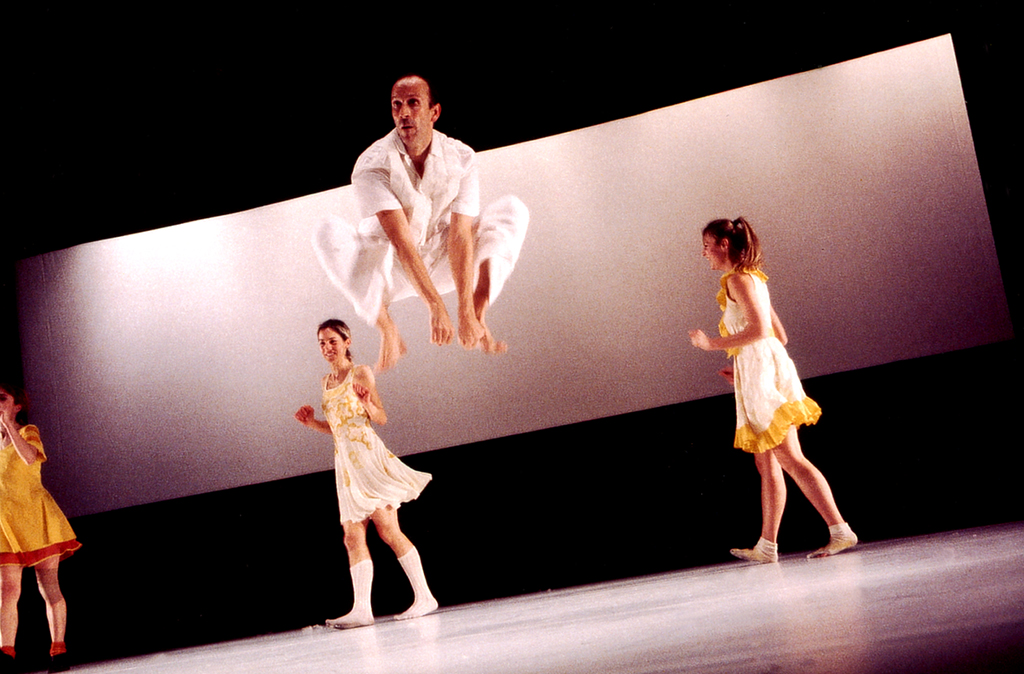 an idea by Giorgio Rossi' Vasco Mirandola e Simone Sandroni
with Valentina Buldrini' Vasco Mirandola' Claudia Monti' Anja Röttgerkamp (Ivana Jozic)' Giorgio Rossi' Simone Sandroni
coreography Giorgio Rossi e Simone Sandroni
textes Vasco Mirandola
lighting Marco Cassini
light assistant Dalibor Kuzmanic
costumes Beatrice Giannini
music Giovanni Venosta
coproduced by ARMUNIA Festival della Riviera Etrusca e Associazione Sosta Palmizi
with il Progetto Regionale Toscanadanza
FLORENCIO 2000 AWARD – URUGUAY as best international show
DANZA&DANZA 1998  AWARD to Giorgio Rossi as best dancer/coreographer of the year
SELECTED at the Dance Biennale Lyon 1998
The meeting and the pleasure to be there' also trying to be useful and necessary' PIUME comes from this.
What joins us is the wish to surprise ourselves' to have the courage to be what we are and to face our humanity.
We want to talk about something concerning ourselves and we like to think that all this is a present' a present from life and a present for life.
What is special and beautiful is that' for this work' people with different artistic origins but also with something in common could meet.
Vasco Mirandola' Giorgio Rossi' Simone Sandroni
an idea by Giorgio Rossi' Vasco Mirandola e Simone Sandroni
with Valentina Buldrini' Vasco Mirandola' Claudia Monti' Anja Röttgerkamp (Ivana Jozic)' Giorgio Rossi' Simone Sandroni
coreography Giorgio Rossi e Simone Sandroni
textes Vasco Mirandola
lighting Marco Cassini
light assistant Dalibor Kuzmanic
costumes Beatrice Giannini
music Giovanni Venosta
coproduced by ARMUNIA Festival della Riviera Etrusca e Associazione Sosta Palmizi
with il Progetto Regionale Toscanadanza
FLORENCIO 2000 AWARD – URUGUAY as best international show
DANZA&DANZA 1998  AWARD to Giorgio Rossi as best dancer/coreographer of the year
SELECTED at the Dance Biennale Lyon 1998