Compagnia Dimitri/Canessa
…di Giulietta e del suo Romeo (2016)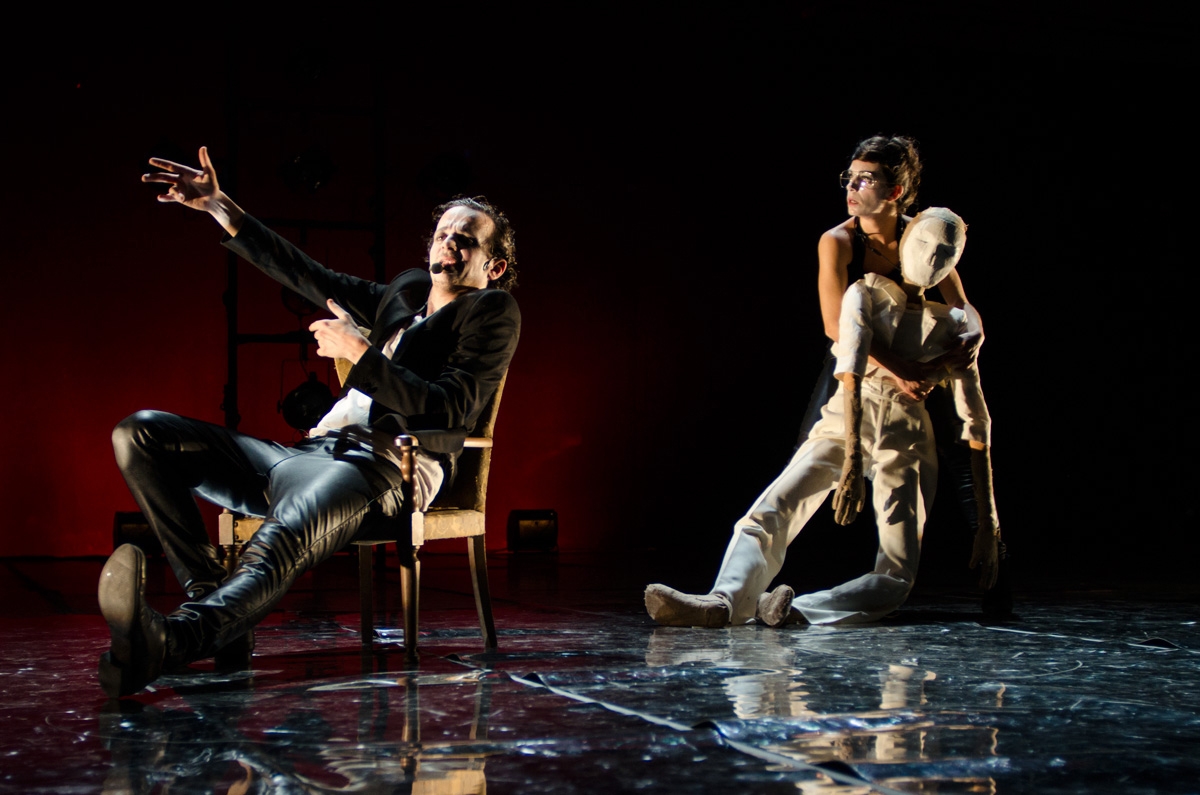 Directed by Federico Dimitri
With Elisa Canessa Federico Dimitri Stefano Dentone Francesco Manenti
Live music Antonio Ghezzani, Matteo Pastorelli
Puppets made by Fabrizio Del Moro
Lighting design Marco Oliani
Production Associazione Sosta Palmizi, Compagnia Dimitri/Canessa, Armunia/Festival Inequilibrio, Progetto Brockenhaus
Duration 60 minutes
A contemporary reinterpretation of the classic text of one of Shakespeare's most famous works, also suitable for an audience of children (from 11 years)
last night I had a dream
it was Juliet's birthday party
and Juliet fell in love with a Montague
a mouse!
A mouse in our house.
Nanny…
Nanny!
But I'm still sleeping…
And this is just a dream.
A nightmare.
The scene opens with a dream. It is the nightmare of Donna Capuleti, Juliet's mother. An oneiric filter covers the whole performance, reality is formed and transformed as if in the grip of constant hallucinations. Presences. And just as in a nightmare, the characters of this show move on the border between reality and the staging of themselves, presenting us with a sadly bitter cross-section of the adult world.
Romeo and Juliet, the two most famous lovers in the world, are safe. Eternally adolescent, eternally pure, eternally in love. About them, there is nothing more to say, nothing more to see. It is the others who interest us. The obtuse and grotesque characters that revolve around the story. Human beings totally incapable of changing the course of a story that repeats itself over the centuries. Always the same story. Always the same deaf and blind adults in front of the world of adolescents, with their extremisms, fragility, passions.
Reading and rereading Shakespeare's Romeo and Juliet, what struck us most was the cruelty, often unintentional, but even more often conscious, that comes from human imbecility. Apart from the two protagonists, somehow 'saved' by falling in love, all the others move threateningly and victoriously towards an inevitably tragic and grotesque epilogue. In this performance Romeo and Juliet are symbolically represented by two puppets that, deprived of the possibility to express themselves, and therefore also of the possibility to be heard, are literally overwhelmed by a world incapable of not letting them die.
Directed by Federico Dimitri
With Elisa Canessa Federico Dimitri Stefano Dentone Francesco Manenti
Live music Antonio Ghezzani, Matteo Pastorelli
Puppets made by Fabrizio Del Moro
Lighting design Marco Oliani
Production Associazione Sosta Palmizi, Compagnia Dimitri/Canessa, Armunia/Festival Inequilibrio, Progetto Brockenhaus
Duration 60 minutes
2 March 2017
Teatro dei Vigilanti, Portoferraio (LI)
14-15 February 2016
Teatro Mecenate, Arezzo
21-22 April 2015
Teatro Comunale di Mesagne (BR)
5 November 2014
Teatro Studio Scandicci (FI)
30 March 2014
Castello Pasquini, Castiglioncello (LI)
2 February 2014
Tensostruttura Castello Pasquini, Castiglioncello (LI)