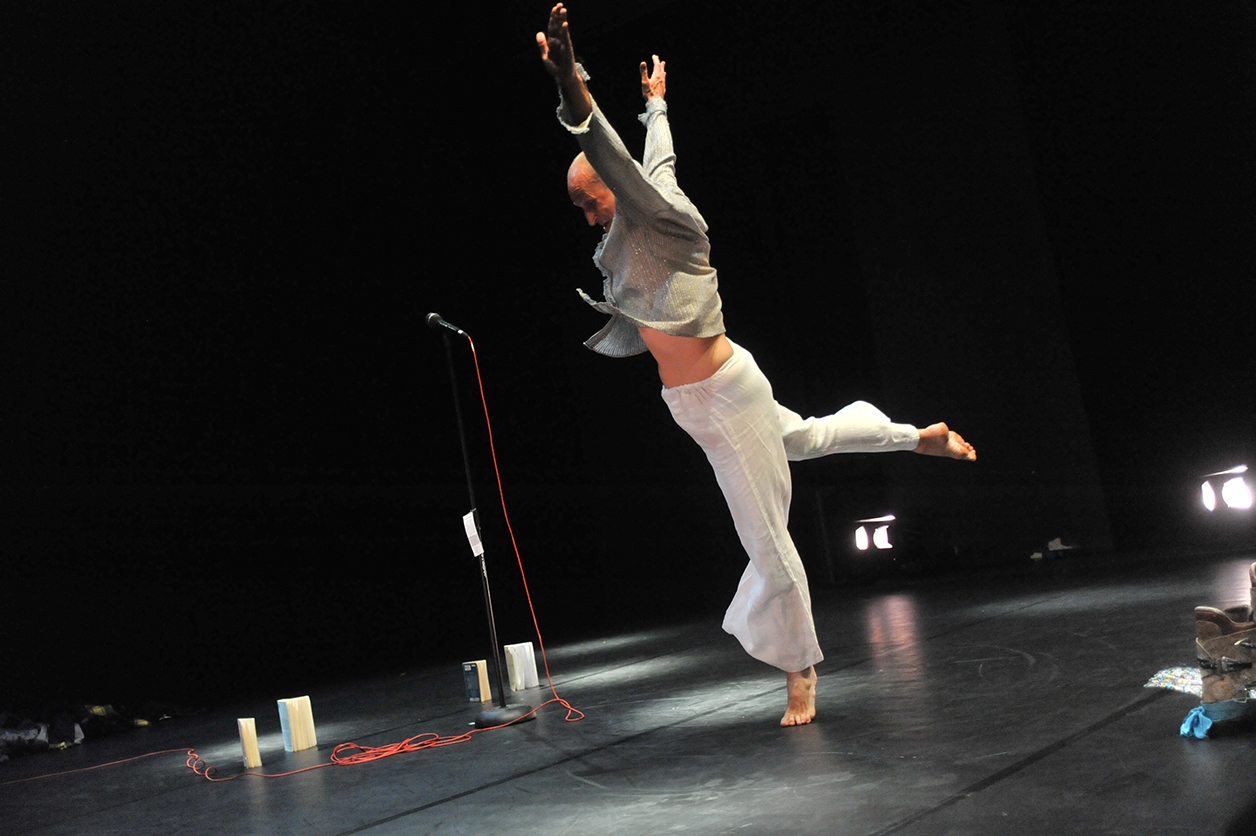 choreography and interpretation Giorgio Rossi
costumes Giorgio Rossi
lighting Michelangelo Campanale
technicien lumières Alessia Massai/Matteo Fantoni
a special thanks to Danio Manfredini' Lorenzo Cherubini' Graziano Migliacci' Roberta Vacchetta' Beatrice Giannini
production Sosta Palmizi
with the support of Ministero per i Beni e le Attività Culturali e della Regione Toscana
My fourth solo Alma' starting from a poem by Pablo Neruda' Neruda touches strong feelings as love' loneliness and sense of death.
Alma'which in castilian means "soul "' includes in its sound: dawn' animal' arms' Karma' calmness' anger' larva' tear' moan' far' …
"I am the sparrow sleeping on your soul…"
The work is about the contrast and the opposite living in us' the desire to react to this inexorable condition.
Other poems by Pablo Neruda' Cesare Pavese' aphorisms and enchantments by Alda Merini are included.
In certain moments incidental musics amalgamate with dancing and talking. Authors are: De Andrè' King Krimson' Death in Vegas' John Oswald.
Although in my performances the evocative element is very important' the audience is constantely encouraged to build its own route' and to always recognize something about its own life experiences. When they ask me what sort of dance is mine' my answer is always detailed and anyhow ends with the invitation to come and see' hear' perceive the event in its whole' because it is closer to a nature walking experience' in the act of loving either then comprehension of an abstract concept bounded to a mental reasoning. The moving poetic theatre is something that can go along with what I try to do on stage.
Giorgio Rossi
E' un'Alma ballerina, va dove la porta il gesto, una musica, il verso del poeta (…) Giorgio è una sorta di Fregoli dello Spirito, cambia in continuazione abiti e anima.
Nico Garrone – La Repubblica
choreography and interpretation Giorgio Rossi
costumes Giorgio Rossi
lighting Michelangelo Campanale
technicien lumières Alessia Massai/Matteo Fantoni
a special thanks to Danio Manfredini' Lorenzo Cherubini' Graziano Migliacci' Roberta Vacchetta' Beatrice Giannini
production Sosta Palmizi
with the support of Ministero per i Beni e le Attività Culturali e della Regione Toscana
20.03.2016
Teatro Nuovo, Salerno
10.10.2015
Auditorium di Merate, Merate (LC)
21>23.02.2014
Teatro dell'orologio, Sala Orfeo – Roma
21.09.2013
Progetto Morenica / Morenica Giovani 2013 – Teatro Bertagnolio – Chiaverano (TO)
06.09.2013
Castello di Barletta – Barletta
27>28.01.2013
Pim Off spazio scenico – Milano
29.11.2012
Teatro Vascello – Roma
19>20.10.2012
Teatri di Vita – Bologna
27.04.2012
Torino Fringe Jazz Festival Teatro Cap 10100 – Torino
27>28.03.2011
Nuovo Teatro Nuovo – Napoli
11.02.2011
PIETRE SENSIBILI assoli al maschile – BEVAGNA (PG)
18.11.2010
Festival Inequilibrio Castello Pasquini Castiglioncello (LI)
30.06.2010
Casa del Teatro Ragazzi e Giovani – Torino
14>15.02.2009
Catania
06.12.2008
Livorno
06.04.2008
Teatro Rosini – Lucignano (AR)
06.02.2008
Teatro gustavo Modena – Genova
19.01.2008
Marghera (VE)
14.12.2007
Brescia
27.01.2007
Teatro del Lido – Ostia Lido (Roma)
05.10.2006
Marseille (FRANCIA)
25.05.2006
Armunia – Castiglioncello (Li)8 >
18.02.2006
Teatro Litta – Milano
26.10.2005
Festival Vie scena contemporanea – Modena
09.10.2005
Bienno (BS)
12.07.2005
Roma
17.06.2005
Adda Danza
13.03.2005
Teatro della Bicchieraia – Arezzo
15.05.2005
Fabbrica Europa Firenze
17.12.2004
Cagli
03.12.2004
Brescia
13.11.2004
Bergamo
22.10.2004
Cagliari
19.10.2004Teatro Dimitri – Verscio (SVIZZERA)
13 > 14.09.2004
Lecce
25.08.2004
Castelfranco Veneto
05.08.2004
Radicondoli
23.07.2004
Andria
20.06.2004
Salzano (Ve)