Sul coraggio. Pasatua va alla fontana (1995)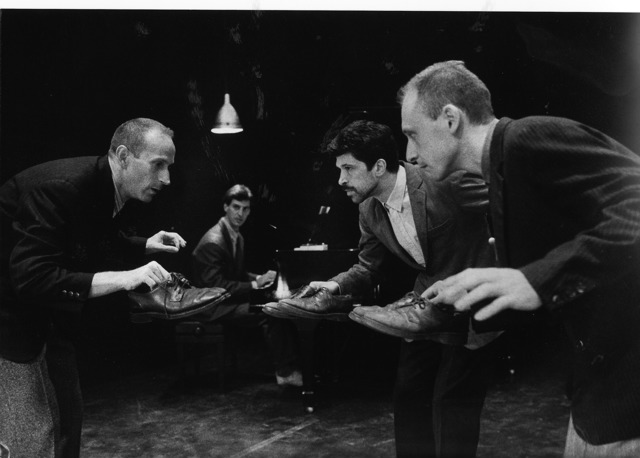 choreography Giorgio Rossi
dancers Giorgio Rossi' Aldo Rendina' Giovanni Di Cicco' Ivan Truol
music Arturo Annecchino
piano performance Giovanni Vitaletti
lighting Marco Cassini
light assistant Dalibor Kuzmanic
My father was a partisan' and if he fought with a gun in his hands' losing his blood' I fight' in this world of silicone optimism' continuously reaffirming frailty' doubt' the feeling of being lost and the search for a state of awareness free from any tinsel. The courage to love' to renounce; the awareness of being an outsider; the courage to have no certainties' to face an audience; the courage of Clown Grok to try the stunt that's obviously impossible for him; the unaware courage of the young boy who throws himself amongst a thousand dangers; the courage to dream.
The scene shifts between an imaginary empty room' a yard and a small circus arena ( giving birth to a proper chamber concert for three dancers and a grand piano).
Pasatua' who is one or three' Pa' Sa and Tua' lives there. In this "where" the ritual of the show of the ineffable is celebrated: simple acts' stunts' events come out' transparently appear and take place as in a circus of shyness' wonder' innocence and' at the end' of very little' but so much for the soul.
Giorgio Rossi
Cabaret of innocence – Clowns of the silence
choreography Giorgio Rossi
dancers Giorgio Rossi' Aldo Rendina' Giovanni Di Cicco' Ivan Truol
music Arturo Annecchino
piano performance Giovanni Vitaletti
lighting Marco Cassini
light assistant Dalibor Kuzmanic
03.01.2006
Teatro Tor Bella Monaca – Roma
10.12.2004
Asolo
05>06.07.2003
Liric Theatre London (UK)
11.04.2003
Teatro Colonna Brescia