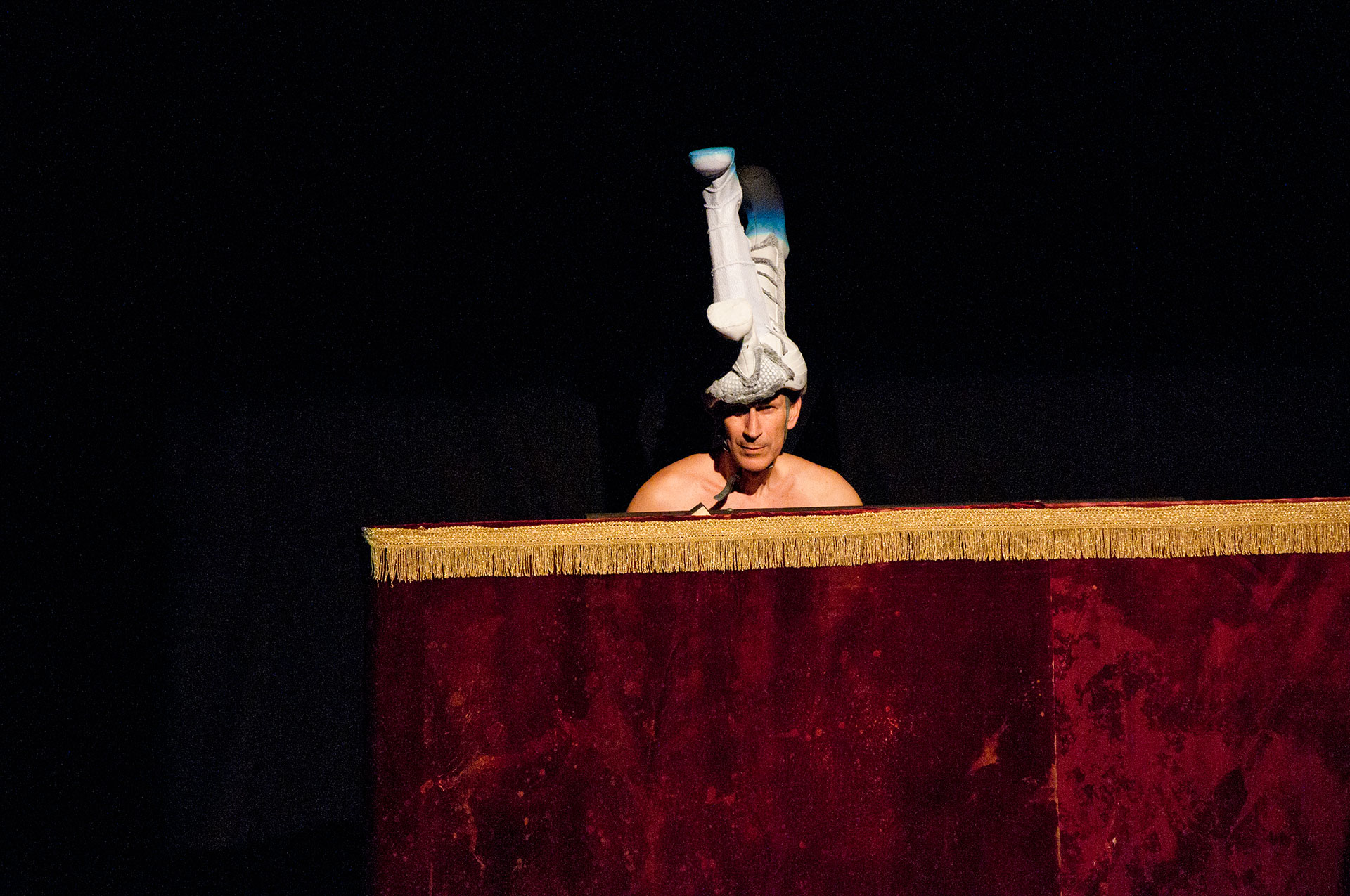 based on an idea by Giorgio Rossi
with Giorgio Rossi, Elena Burani, Fabio Nicolini, Francesco Sgrò
lighting design Marco Oliani
sound design Alessio Rosi
production Sosta Palmizi
duration 60 minuti
Age: From 4 years old
The shoe as a poetic parabola of experience and individual and collective memory.
A series of images that start from the feet and lead the imagination to the recollections of elderly men seated under the cool shade of the trees' who stop playing cards to describe the most beautiful woman they've ever seen' and how she danced in red ballet shoes; or they recall the boots worn by the partisans – totally unsuitable for war but all they had. Giorgio Rossi dances this story for children' telling it with delicacy' like a fairy tale about shoes' under a moonlit sky that lights the passage of weird characters on a mysterious path.
Because there is no one better than children to believe in a fairy tale about shoes' their eyes wide at what the shoes have to tell. The performance combines contemporary dance and nouveau cirque: delicate dance steps interweave with spectacular aerial and ground acrobatics' creating the magical atmosphere of fairy tales.
based on an idea by Giorgio Rossi
with Giorgio Rossi, Elena Burani, Fabio Nicolini, Francesco Sgrò
lighting design Marco Oliani
sound design Alessio Rosi
production Sosta Palmizi
duration 60 minuti
Age: From 4 years old

22.03.15
Teatro della Fortuna – Fano (PU)
30.03.14
Teatro Annibal Caro Civitanova Marche (MC)
09.03.14
Teatro Sanzio – Urbino (PU)
17- 18.11.13
Teatro Mecenate, Arezzo
23.07.13
Biblioteca Andalo – Andalo (TN)
19.07.13
Teatro delle Api – Porto Sant'Elpidio (FM)
18.04.13
Teatro Comunale – Thiene (VI)
11.04.13
Teatro Bismantova – Castelnuovomonti (RE)
7.04.13
Teatro Salieri – Legnago (VR)
26.03.13
Teatro Concordia – San Benedetto del Tronto (AP)
28.02.13
Teatro Alighieri – Ravenna (RA)
17.01.13
Teatro Comunale di Vicenza – Vicenza (VI)
07.12.12
Teatro Giuseppe Borgatti – Cento (FE)
28-30.11.12 1-2.12.12
Teatro Vascello – Roma
08.08.12
Mole Vanvitelliana – Ancona
10-11.03.12
Teatro Arena del Sole – Bologna
09.03.12
Teatro del popolo – Rapolano Terme (SI)
14.02.12
Teatro Traetta – Bitonto (BA)
12-13.02.12
Teatro comunale Terrammare – Nardò (LE)
11.02.12
Teatro delle Forche – Massafra (TA)
11-14.12.11
Teatro Fabbricone – Prato
24.11.11
Teatro della Rosa – Pontremoli (MS)
06.04.11
Teatro La limonaia – Sesto Fiorentino (FI)
05.04.11
Teatro degli Industri – Grosseto
24-25.03.11
Teatro Gioco Vita – Piacenza
22/23.03.11
Teatro De André – Casalgrande (RE)
20.02.11
Teatro Comunale – Ruvo di Puglia (BA)
18.02.11
Teatro Verdi – Martina Franca (TA)
17.02.11
Teatro Norba – Conversano (BA)
4-5.11.10
Cantieri Teatrali Koreja – Lecce
12.07.10
Teatro Dante – Campi Bisenzio (FI)
05.06.10
Fortezza Vecchia – Livorno
27-28-29.01.10
Nuovo Teatro Verdi – Brindisi
30.04.09
Castello Pasquini – Castiglioncello (LI)
28.04.09
Calzaturificio Ballin – Fiesso d'Artico (VE)