Puntini puntini puntini (2009)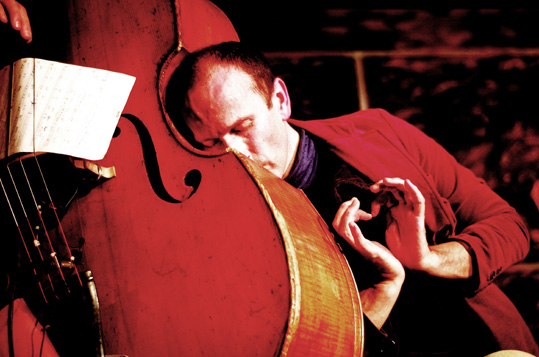 from an idea of Giorgio Rossi
improvised poetic movement by Giorgio Rossi
original music performed live byGabriele Mirabassi
reciting voice David Riondino
texts J.L. Borges e Stefano Benni
lights Mara Cugusi
organizationGiovanna Milano
production Associazione Sosta Palmizi
…waiting for the suspension to put its feet on the ground
…hanging from the winds of one and the other
…mutually dependent on each other's art form
…between fantastic animals and lunar landscapes
…a prologue, a voice and little princes playing together
…a court of gestures and sounds
…the scene as the ground of an unknown realm, the place of the encounter that will fill the wait with the body, the breath and the voice of Giorgio Rossi, Gabriele Mirabassi and David Riondino.
An improvisation starting from the readings of "Manuale di zoologia fantastica" by J.L. Borges and "I meravigliosi animali di Stranalandia" by S. Benni.
On a winter's evening a light conversation between theater, dance and music to fly high in the boreal skies of imagination.
from an idea of Giorgio Rossi
improvised poetic movement by Giorgio Rossi
original music performed live byGabriele Mirabassi
reciting voice David Riondino
texts J.L. Borges e Stefano Benni
lights Mara Cugusi
organization Giovanna Milano
production Associazione Sosta Palmizi