Non facciamone una tragedia (2009)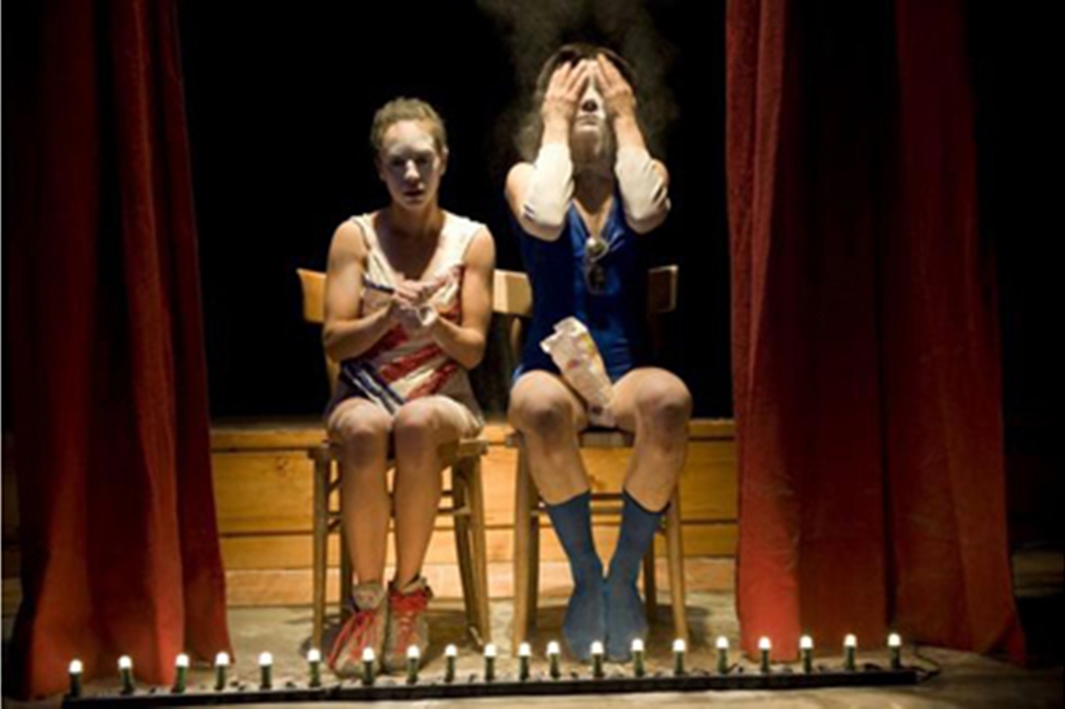 interpretation and choreography Elisa Canessa, Federico Dimitri, Elisabetta di Terlizzi, Piera Gianotti, Francesco Manenti, Emanuel Rosenberg
lighting design Marco Oliani
production Sosta Palmizi
co-production Il Grattacielo – Livorno, La Corte Ospitale – Rubiera, Azienda Idroelettrica EWZ – Switzerland
"Looking inside our society, we discover we are part of a generation with the tragic gene."
Choosing the word "tragedy"' the Brockenhaus company decides to give form and life to this phenomenon that has followed us since our birth, staging a show that carries the ancient tragedy in its lap, but in the eyes of the spectator it can present itself in the form of a daily tragic-comic act. A unique act of survival in⁄the tragedy. We measure moments of insecurity by the life of others, we live them in the third person if possible. We make others suffer in order to understand ourselves better, we are experts in telling and observing other people's tragedies, entering into the smallest details, but we turn our backs when we feel called to react. It's not our tragedy, so let's not make it a tragedy.
Don't condemn us to eternal youth "…Certainly values are not invented and if the old ones don't go any longer we can only wait, even without being reactionary or conservative, that is without going back to old practices or observing those that have expired; however, at least the value of life, with all that this entails, must be safeguarded, and I say, of life, starting from the biological one, made up of childhood, adolescence, youth, maturity, old age and death. Of all our sins, the most serious is that of having taken away your will to fight, to unite you…"
Giorgio Bonomi, rivista Perimmagine
The project was born from the desire to create together a new group of "theatre of movement". The performers have trained and graduated in the world of dance, theatre and circus, have worked and still work with various Italian theatre and dance companies, including Sosta Palmizi, as well as being authors and interpreters of personal works (Agatharandagio, E. di Terlizzi and Compagnia Klupper). They met thanks to their common passion for body work and through director Teresa Ludovico and choreographer Giorgio Rossi. In their path of physical theater they approached the Sosta Palmizi, participating first in the productions of G. Rossi and then followed and supported by the association in the creation of their first choreographic works (30º60º90º' TREDICINO). From this journey together also springs the will to propose within the Sosta Palmizi projects their new production.
interpretation and choreography Elisa Canessa, Federico Dimitri, Elisabetta di Terlizzi, Piera Gianotti, Francesco Manenti, Emanuel Rosenberg
lighting design Marco Oliani
production Sosta Palmizi
co-production Il Grattacielo – Livorno, La Corte Ospitale – Rubiera, Azienda Idroelettrica EWZ – Switzerland
Teatro Kismet Opera, Bari
Teatro Mignon, Tirano (SO)
Auditorium S. Antonio, Morbegno (SO)
Festival Tdv 4, Teatro Palladium, Roma
Armunia Festival, Castello Pasquini, Castiglioncello (LI)
Rassegna Invito di Sosta, Teatro Rosini, Lucignano (AR)
Centro Artistico, Il Grattacielo, LIVORNO
Rassegna Rumble, Piazza San Francesco, Lucignano (AR)
Teatro dei Concordi, Acquaviva ACQUAVIVA (SI)