Nella stanza di Max (2015)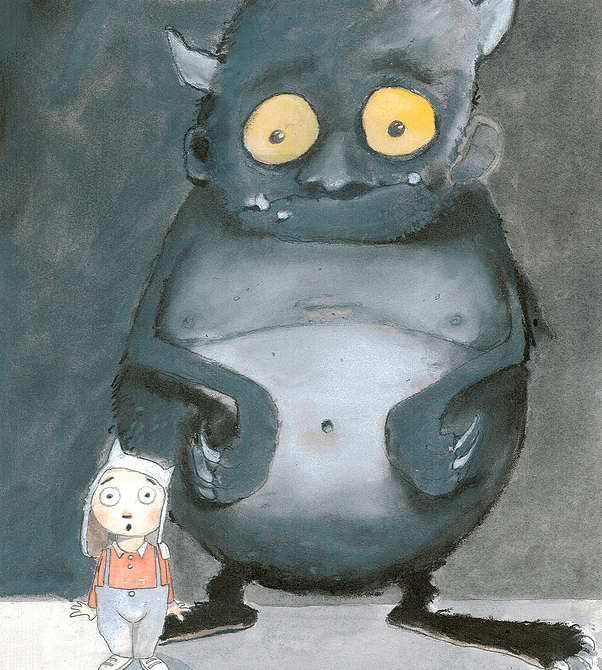 movement theatre performance for boys and girls aged 5 and over
freely inspired by the work of Maurice Sendak in the context of the UN Convention on the Rights of the Child and Adolescence
authors Elisabetta di Terlizzi, Francesco Manenti, Daina Pignatti and Laura Tondelli
interpreters Elisabetta di Terlizzi, Francesco Manenti, Daina Pignatti, Emanuel Rosenberg
costumes Laura Pennisi and Oro-Nero Creazioni Modena
props Francesco Manenti
the voices of the monsters Olgaproductions
production Bàbu dance theatre, Sosta Palmizi Association, Cà Rossa Association
with the support of Unicef Bologna and the contribution of the Municipality of Bologna
duration 45 minutes
Authors' note
We find Sendak's work extremely topical, and in particular In the land of wild monsters, because it embraces the imagination of the child entering the complexity of his unconscious, without hiding its surreality, nor the links between dreamlike characters and real life people. We believe it can meet, with different nuances, the imagination of children and adults.
Max is a child like many others, this tall, with hair like this and eyes like this. He wears a wolf tail and wolf ears. He builds, disassembles, creates, jumps and plays noisily. His mother calls him back, but he keeps on making a racket. Until mom, tired of not being heard, yells at Max and sends him to bed without dinner.
Now Max is alone in his room. The shadows on the furniture look like strange, increasingly real and threatening creatures. They now resemble animals, now trees that grow and grow until they turn the room into a forest, then into a fascinating and insidious sea. After a long sail, Max reaches an island inhabited by strange wild creatures. Max faces those "monsters" staring them straight into their yellow eyes. After playing, dancing and becoming king of the wild creatures, Max feels a great longing for home. A good smell guides him back to his little room where he will find a good plate of hot soup waiting for him.
The show is inspired by the work of Maurice Sendak and deals with issues related to the rights of children and adolescents as set out in the UN Convention on the Rights of the Child and Adolescence.
Max is similar to young spectators sitting in the audience: he is a child from the north of the world, he has food, education, a roof, care when he is sick. Max, in this show, will take a journey into his unconscious, to discover his identity that is built in discovering, desiring, claiming, his rights.
Max needs to identify himself and an awareness of his right to the integrity of his body (not to suffer violence, not to be mistreated, not to be used for work).
Max has the right to play, dance, get dirty, he has the right to grow up with his family, he has the right to his own space of affection and memory.
Once they understand that Max is only a child, the creatures will propose a list of "games" that they could play together: for example they could use him to do some chores, or they could eat him whole or maybe a little piece at a time. Max, using the dialectic of body and words, can convince those creatures not to eat it, not to cut it off one piece at a time, and once he confirms his right to exist and his integrity, he manages, staring them straight into their yellow eyes, to be proclaimed King of the Land of wild creatures.
All together they throw themselves into a collective dance in which the triumphant King Max declares his right to dance, to play, to get dirty, to roll in the meadows.
movement theatre performance for boys and girls aged 5 and over
freely inspired by the work of Maurice Sendak in the context of the UN Convention on the Rights of the Child and Adolescence
authors Elisabetta di Terlizzi, Francesco Manenti, Daina Pignatti and Laura Tondelli
interpreters Elisabetta di Terlizzi, Francesco Manenti, Daina Pignatti, Emanuel Rosenberg
costumes Laura Pennisi and Oro-Nero Creazioni Modena
props Francesco Manenti
the voices of the monsters Olgaproductions
production Bàbu dance theatre, Sosta Palmizi Association, Cà Rossa Association
with the support of Unicef Bologna and the contribution of the Municipality of Bologna
duration 45 minutes
Teatro Comunale Laura Betti, Casalecchio di Reno (BO)
Festival mediterraneo dei ragazzi (I edizione), Teatro Francesco Cilea, Reggio Calabria
ALTRE DANZE_portiamo i ragazzi a Teatro!, Teatro Mecenate, Arezzo
Teatro Asioli, Correggio (RE)
Teatro ComunaleLaura Betti, Casalecchio di Reno (BO)
Sala de Ridotto del Teatro Comunale, Vicenza (VI)
Teatro Comunale, Thiene (VI)
Segnali 2016 Festival Teatro Ragazzi, Teatro Verdi, Milano
Rassegna Pupi&Pini – XXII edizione, Parco Hemingway, Lignano Sabbiadoro (UD)
Teatro Regina, Cattolica Emilia Romagna (RN)
Teatro del Cenacolo francescano Rassegna Piccoli e grandi insieme, Lecco (LC)
Loiano (BO) , Rassegna Favolando, Emilia Romagna
Teatro Cinema Soliera (MO) Emilia Romagna
Teatro Cinema Soliera (MO) Emilia Romagna
Oratorio San Filippo Neri, Bologna(BO). Emilia Romagna
Sala Arcipelago, Pianoro (BO). Emilia Romagna
Cinema Teatro Nuovo// Vergato ( BO )Emilia Romagna
Teatro Comunale. Sasso Marconi. Emilia Romagna (BO)
Teatro Comunale. Sasso Marconi. Emilia Romagna (BO)
Auditorium Manzoni, Bologna