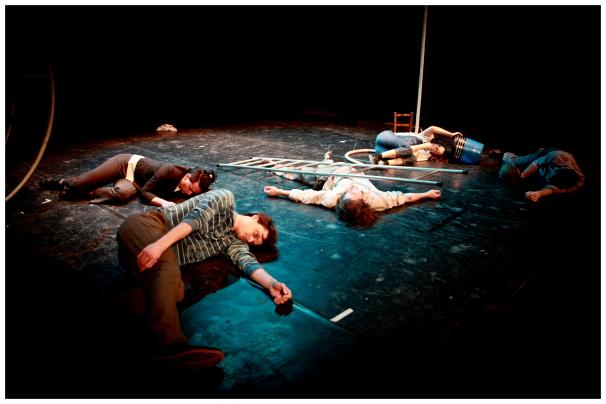 project by Collettivo 320Chili
interpretation Elena Burani, Piergiorgio Milano, Roberto Sblattero, Francesco Sgrò with the special participation of  Alessandro Maida
production Collettivo 320Chili/Sosta Palmizi Teatro Olimpico/Filarmonica Romana, Flic Scuola di Circo
Misticanza means "mixture" and is a term used for various vegetables, wild and cultivated, eaten raw in salads especially in central Italy. So it was called the Collective in its beginning by an artist friend of us. The show is inspired by this meaning to present an evening of contemporary dance and circus, in which all the Collective 320Chili founders alternate on stage along with the virtuous Alessandro Maida. An example of poetic and emotionally work in which different techniques act in an harmonious way. The need to express lead them to meet as they are, without frippery nor tweaks, naked and raw.
The Collective 320Chili consists Elena Burani (aerial acrobat and dancer), Piergiorgio Milano (dancer and choreographer), Fabio Nicolini (acrobat), Roberto Sblattero (actor, acrobat, musician), Francesco Sgro (juggler, acrobat, dancer). The five artists blend their different technical skills Every circus technique is reported to energy and turns into need for movement in which the tools are intertwined to the body of the actors "becoming" new language that the show uses to evoke images, tell, surprise and excite.
Alessandro Maida, graduated from the circus school Flic in Turin, he moved to Brussels where he attended the Ecole Superieure des Arts Esac du Cirque, where he met the artist Maxime Pythoude with whom he founded the company Circoncentrique and creates the show "Respire" , staged more than 200 performances throughout Europe.
project by Collettivo 320Chili
interpretation Elena Burani, Piergiorgio Milano, Roberto Sblattero, Francesco Sgrò with the special participation of Alessandro Maida
production Collettivo 320Chili/Sosta Palmizi Teatro Olimpico/Filarmonica Romana, Flic Scuola di Circo