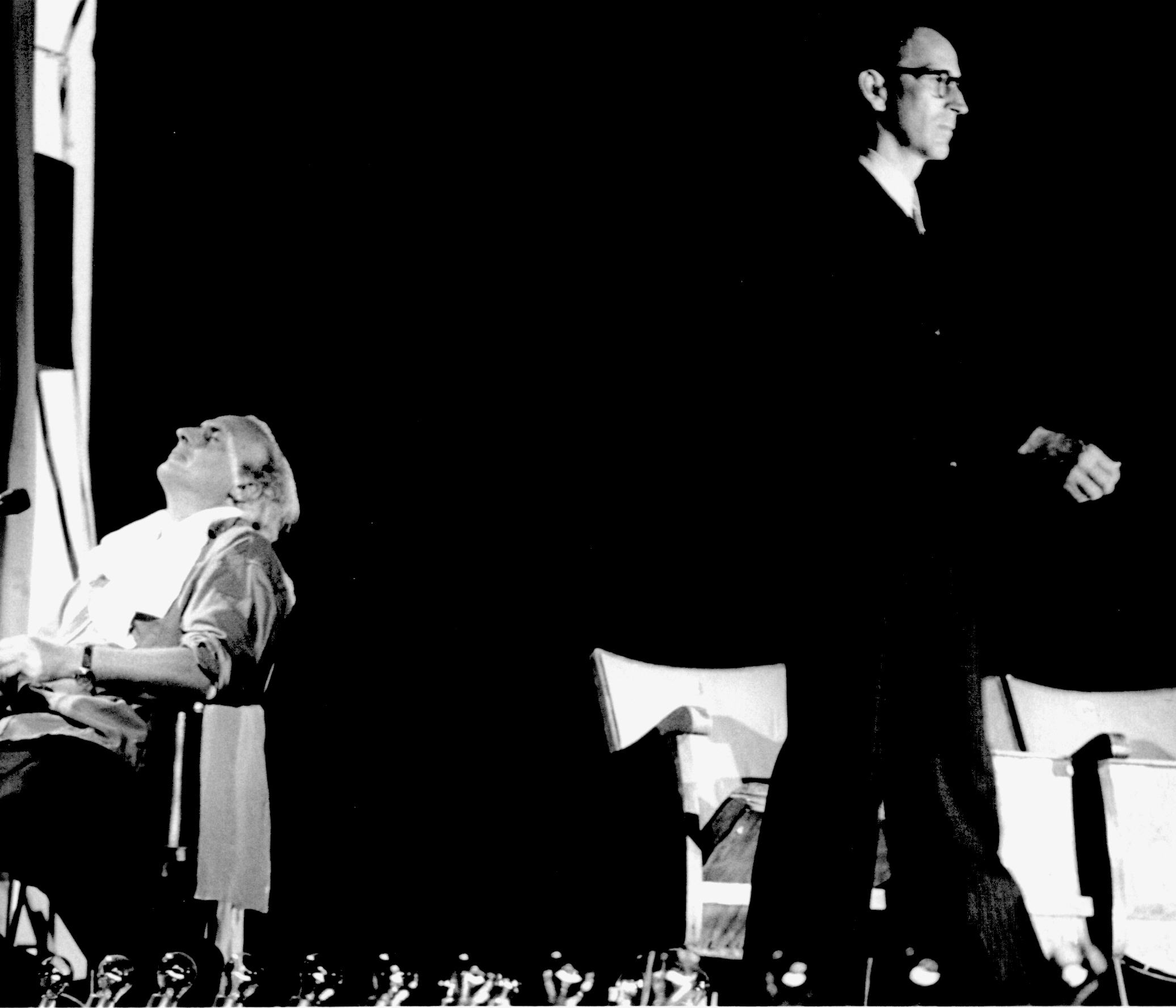 concept by Stefano Benni
original music Paolo Damiani
narrative movements Giorgio Rossi
sets and lighting design Michelangelo Campanale
sound engineer Fabio Vignaroli
costumes Beatrice Giannini
costume assistant Veronica Lopez
video documentation Andrea Baldasarri
on stage
Stefano Bennireciting voice
Giorgio Rossi, Aline Nari, Silvia Bugno, Maristella Tanzi
Paolo Damiani double bass
Achille Succi alto sax, clarinets
Alessandro Gwis, keyboards, piano
produced by RomaEuropa Festival' Roccella Jonica Festival' Sosta Palmizi
…Lolita, light of my life, fire of my loins.
My sin, my soul…
V. Nabokov
A novel composed in a superb language, Nabokov's Lolita reveals its characters (Humbert, the protagonist, in particular) with sadistic sympathy, immersing them in an almost grotesque universe that comments complacently on its own rituals and weaknesses. The Lolita narrated by Stefano Benni is mixed with equal irony and poetry with the jazz sounds of Paolo Damiani and the movements of choreographer Giorgio Rossi.
In the novel, Humbert's aristocratic mediocrity is overwhelmed by that bright object of desire which has a name for every occasion (Lo, Lola, Dolly, Dolores and finally Lolita in his arms) and the austere professor drifts away, bewitched by the carefree and forbidden sensuality of the young girl and by the mirage of a youth to which he desperately tries to cling despite being made fun of. Nabokov's novel offered, in 1955, a searing snapshot of the America of the time, dominated by myths and obsessions (especially sex), while continuing his incessant investigation through the theme of identity, a timeless investigation present in every one of Nabokov's words, even in the writing itself. Benni, Damiani and Rossi exalt Nabokov's text, describe the love of love that breaks down diversity and prejudice, and weave a lofty and frank eulogy of impossible loves.
Stefano Benni has chosen a few short passages from Nabokov's Lolita, combining them with his own brief connections: and so Humbert takes the spectator on a journey that liberates desire, in the illusion of a barely savoured present that is already behind us. Paolo Damiani's music accompanies and suggests the paths of this journey through the enigma of human tension towards the unattainable; Giorgio Rossi's movements, never illustrative, translate the unspeakable into a poem enunciated by the body.
Lolita is the story of an impossible love that overwhelms the person who lives it and transforms him into the opposite of himself, "a book that should be recommended against hypocritical moralism and exotic, domestic, cybernetic sex tourism", says Benni, "a book that asks neither absolution nor therapy, but only to be read with truth".
concept by Stefano Benni
original music Paolo Damiani
narrative movements Giorgio Rossi
sets and lighting design Michelangelo Campanale
sound engineer Fabio Vignaroli
costumes Beatrice Giannini
costume assistant Veronica Lopez
video documentation Andrea Baldasarri
on stage
Stefano Bennireciting voice
Giorgio Rossi, Aline Nari, Silvia Bugno, Maristella Tanzi
Paolo Damiani double bass
Achille Succi alto sax, clarinets
Alessandro Gwis, keyboards, piano
produced by RomaEuropa Festival' Roccella Jonica Festival' Sosta Palmizi