Lionel – Come un elefante in una cristalleria (2017)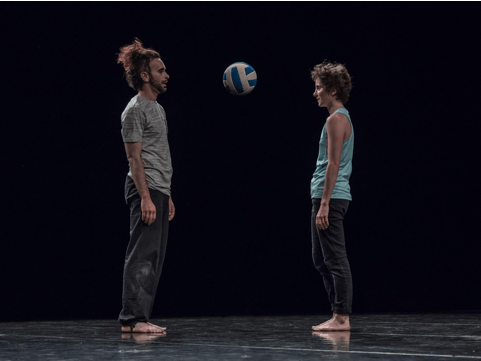 Creation and performance Teresa Noronha Feio e Francesco Sgrò
dramaturgical eye Carlota Scioldo
original music ANDRA Alessandra Bossa
music advisor Pino Basile
light design Edwin Van Steenbergen
costumes Capelista Design Studio Lisbon
technique Luca Carbone
production Fabbrica C
co-production Associazione Sosta Palmizi, Centro Cultutale Cartaxo
support Flic Scuola di Circo di Torino, cccTo Ex Birrificio Metzger, Associazione Culturale StandOrt
Lionel is a performative practice, rooted is sports aesthetics. Inspired in simple elements such as rhythm, dribbling, kicking, personality cult and sportive competi- tion.
The result is an abstract and unpredictable dance of dribbling, in constant change of meanings.
Is explored the possibility to create new artistic languages that can bring a more complex narrative about human relationships. The desire is to have a place where each artistic diversity may exist in symbiosis and where this diversity comes to enri- ch and contaminate both artists.
Creation and performance Teresa Noronha Feio e Francesco Sgrò
dramaturgical eye Carlota Scioldo
original music ANDRA Alessandra Bossa
music advisor Pino Basile
light design Edwin Van Steenbergen
costumes Capelista Design Studio Lisbon
technique Luca Carbone
production Fabbrica C
co-production Associazione Sosta Palmizi, Centro Cultutale Cartaxo
support Flic Scuola di Circo di Torino, cccTo Ex Birrificio Metzger, Associazione Culturale StandOrt
Teatro della Regina, salone Snaporaz, Cattolica (RN)
Scuola di circo Flic, Torino
Cantieri teatrali Koreja, Lecce
Chiostro del Teatro Pietro Aretino, Arezzo
Fratta Santa Caterina, Cortona (AR)