L'azzurro necessario (1992)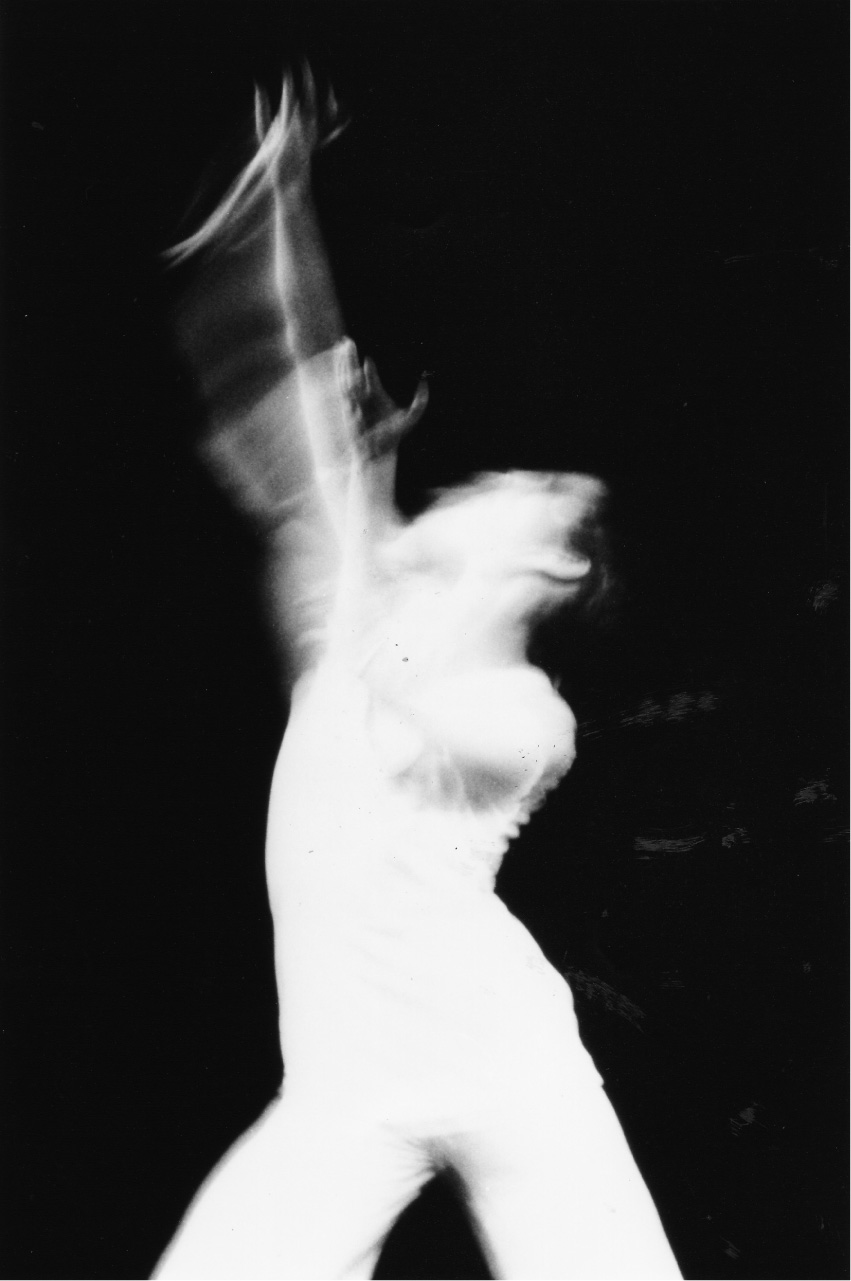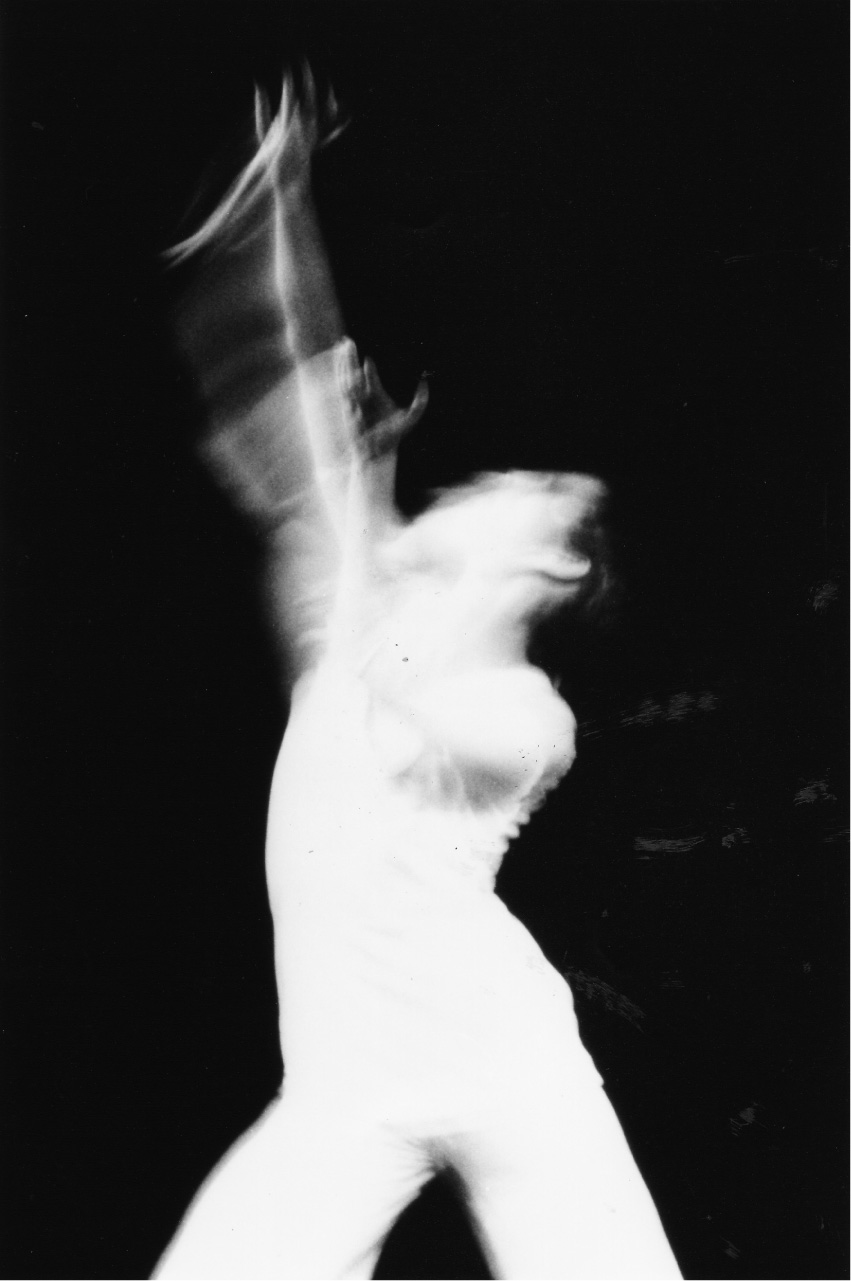 choreography and interpretation Raffaella Giordano
scenary Francesco Calcagnini
lighting Marco Cassini
music A. Schnittke' Buxtheude' Händel
production  associazione sosta palmizi
And I alive, erect,
Stubborn, and secretly armed with my inner void,
But one cheek on fire as though with love,
My nostril married to the wind from the orange grove,
I can give the light no more than a stranger's look
……
……
…..
In myself I renew my gods, my enigmas,
My pacings interrupted by words to the heavens,
My pauses, on a step bearing a reverie
That  follows in a wing's mirror a varying bird,
Wagers a hundred times void against sun,
And burns, at the dark goal of my gaping marble.
…..
Paul Valery (from the poem "The Young Fate")
 …Asylum, asylum, oh my asylum, oh vortex!
I found myself in you oh movement, beyond the things of the world. 
Paul Valery (from the dialogue "The soul and the dance" )
There are people who find in art a rediscovery of an idea of nature, beyond any cosmogony, intended as a huge and chaotic mechanism of events. The dance of Raffaella Giordano seems to appropriate anew the codes and clean and pure shapes of nature's models, filtering and re-living them through the modern and quotidian.
This strange tendency towards a new "classicism" is however concealed and hidden by the lines and symbols of an aesthetics which relates to us more closely, and the essentiality which derives from it is the child of a territory that is pure and naked, or infinitely complex, and whose primary reference is in natural manifestations.
Raffaella Giordano is an artist who works on gestures of movement, on weight and directions; before anything else, by assuming the immediacy and the "mechanics" of relationships that evolve in actual time, even during an improvised sequence, a reiterated repetition, a joke.
Weights, directions, symbols that disappear concealed to sight by a "roundness", a circularity which swallows and transforms them. Movement like mechanical circularity where the levers are slight habitual gestures, and the weights are slices of space that move, directions   often only in the eyes or breath. In this way a strange border zone is born where the dynamic of forces and suspension of circular shapes cohabit intended as a place of points without beginning or end. This generates a great suspension of waiting that is sometimes startling, sometimes painful, and sometimes regresses into uterine viscera. Her dance rediscovers and re-founds an aesthetics of language by negating language itself, bound to and in love with the symbol that comes before even the significance, communicating in itself; and it is this economy of symbols that is re/found after millions of years, after memories and black holes, that defines the dancer's poetry.
L'Azzurro necessario is a solo that recounts the evolution of this research: it is a work of great formal solidity, created almost like sequential music, and yet so close to the unforeseen and accidental. The unforeseen and incidental that have then ordered their own chaos, rediscovering a concept of structure in a process that is exactly opposite to what we are used to, at least in the aesthetic theories of the West.
L'Azzurro necessario becomes almost an "open" work in which each execution leaves space for dialectics and contradiction that are inherent in the symbols, and where the performer is effectively and profoundly the author of her own dance. Dance which often creates discomfort and unease because there are no concessions to passion or personal pleasure, to a dangerous neo-romanticism or a simplistic emotional entertainment; there is, on the contrary, sensuality of the soul, the emotion bound to breathing, to detachment and to profound immersion.
Bruno de' Franceschi (from the programme of"Danses d'avril", 31 March /8 April'95, La Ferme du Buisson, Paris)
choreography and interpretation Raffaella Giordano
scenary Francesco Calcagnini
lighting Marco Cassini
music A. Schnittke' Buxtheude' Händel
production associazione sosta palmizi
09>10.07.1999
Festival de la cité «Près de Druides» Losanna (SVIZZERA)
21.11.1997
Solitamente II, Paint Factory – Pistoia (PT)
13.11.1997
Teatro Comuale – Latina (LT)
19.03.1997
Teatro Signorelli – Cortona (AR)
04.01.1997
Teatro Comunale – Trevi (PG)
06.11.1996
Teatro delle Maddalene – Padova (PD)
08.08.1996
Rocca di Civitella – Civitella in Val di Chiana (AR)
12.07.1996
Teatro Comunale – Denno (TN)
12.01.1996
Centre Culturel Jean Moulin – Limoges (FRANCIA)
12.11.1995
La Ferme du Buisson Centre d'art et de culture de Marne, La Vallée – Parigi (FRANCIA)
07.09.1995
Teatro Sant'Agostino – Genova (GE)
27.05.1995
Teatro Vascello – Roma (RM)
20.05.1995
Teatro Petrella – Longiano (FO)
27>28.12.1994
Teatro Juvarra – Torino (TO)
16.12.1994
Teatro Vascello – Roma (RM)
10.12.1994
Teatro Manicnelli – Orvieto (TR)
08.12.1994
Teatro dei Riuniti – Umbertide (PG)
26>28.11.1994
Tetro Petrella – Longiano (FO)
22>23.11.1994
Teatro La Ribalta – Osnago (CO)
05>06.11.1994
Teatro Solvay – Rosignano (LI)
02>07.11.1994
Teatro dei Ricordi – Campiglia (LI)
14>16.10.1994
Duncan Center – Praga (REPUBBLICA CECA)
31.07.1994
WUDAD' International Festivl of Dance Academies – Pechino (CINA)
10.07.1994
Internationales Tanzprojekt Bielefeld Klosterplatz – Bielefeld (GERMANIA)
08.07.1994
Internationale Kulturtage der Stadt Dortmund – Dortmund (GERMANIA)
03.07.1994
Bonner Sommer / Europäische Kulturstadt – Bonn (GERMANIA)
26.11.1993
Teatro Civico Garybaldi – Settimo torinese (TO)
03-09.11.1993
Teatro Greco – Milano (MI)
30.10.1993
Mediascena al Colosseo – Roma (RM)
10.07.1993
Palazzo Buonaccorsi – Macerata (MC)
21.12.1992
Cabaret Voltaire (debutto) – Torino (TO)
21.07.1992
Italiarte '92 – Palazzo Brancaccio – Parco dei Saloni – Roma (RM)
19.07.1992
Chiesa di Sant'Agostino – Bergamo Danza Estate – Bergamo (BG)
11.07.1992
15°ed. Festival di Polverigi – Polverigi (AN)
Other productions by di Raffaella Giordano