Francesco Manenti / Elisabetta Di Terlizzi
La menta sul pavimento (2010)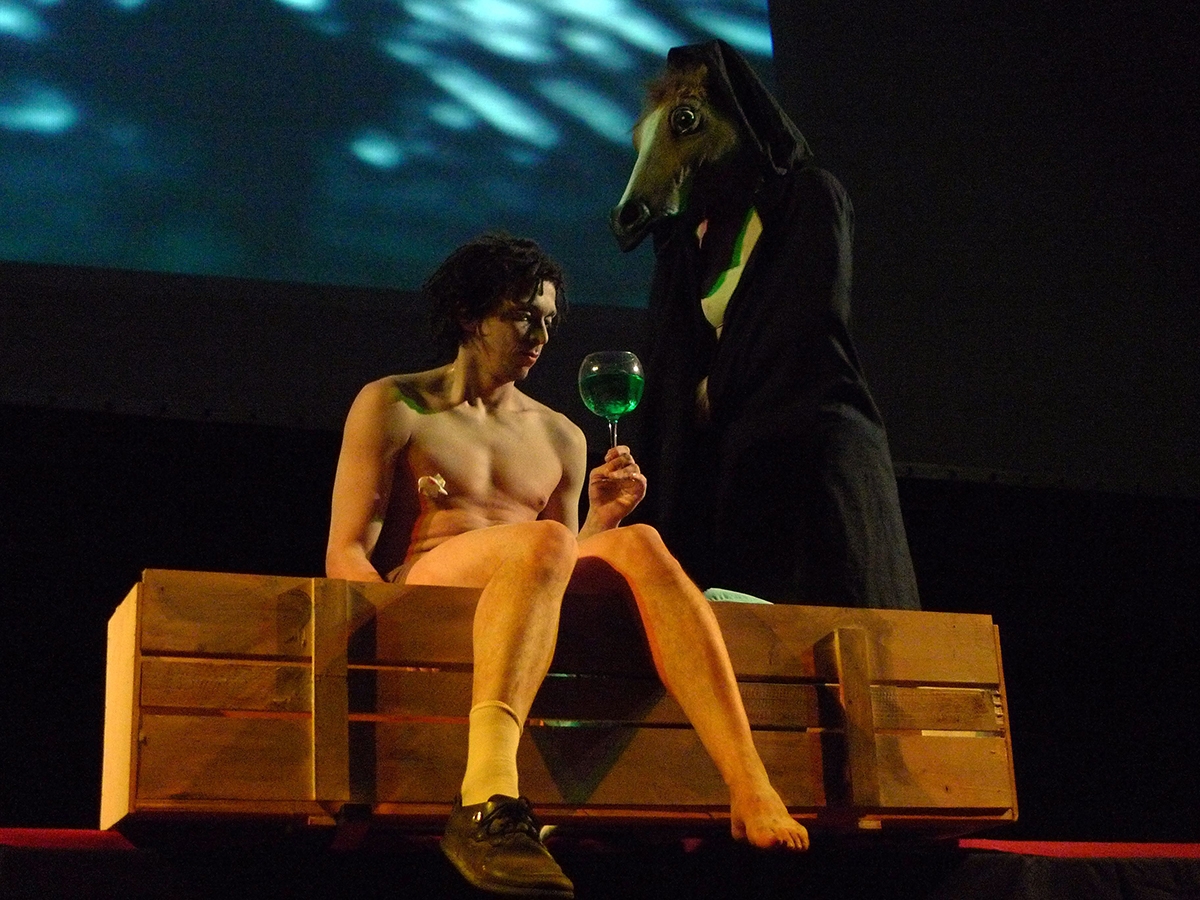 creation and interpretation Elisabetta di Terlizzi and Francesco Manenti
original music Michele Zanni
lighting design Mara Cugusi
video shooting Elisabetta di Terlizzi and Francesco Manenti
realization video-music editing Emanuel Rosenberg, Francesco Manenti and Riccardo Palmieri
artistic consultancy Giorgio Rossi
artistic collaboration Riccardo Palmieri
scenography Andrea Conti
co-production Sosta Palmizi 2010, Arci Aur-Ora Piccolo Teatro 2010, Lo sguardo dell'altro, Rete teatrale aretina 2011
with the support of Teatro di Castiglion Fiorentino
The politics of this time.
Grey is the sad world
Where colours fade
Like inspiration
They shine and are buried
Grey is the fortress tomb
From which no one returns.
Derek Jarman
The show proposes a reflection on the relationship between childhood and the world of adults.
"Mr. President' what will be the future of our children?"
The President is not answering.
Confident, the interviewer asks the question again and again.
Too late.
The President has fallen into oblivion from which there is no way out.
Time has stopped.
The question becomes unanswerable for those who have been dealing with "the things of the great" for too long.
In that long silence … what were the thoughts of the old politician?
What images paralyzed his body? What sensations?
The mint on the floor is an imaginative projection of the President's grey matter. A conference of gray bodies and gagged little men.
An assembly where she complains of a comical pregnancy and he ironically pounds himself.
A conference in which the public is invited to participate and in which they will be trapped by an imaginary overturned' populated by grotesque children unable to untangle reality from fiction.
The performance is inspired and dedicated to Sergio Padovani's paintings' the film Sweet movie by Dusan Makavejev and the art of Anna Prucnal.
creation and interpretation Elisabetta di Terlizzi and Francesco Manenti
original music Michele Zanni
lighting design Mara Cugusi
video shooting Elisabetta di Terlizzi and Francesco Manenti
realization video-music editing Emanuel Rosenberg, Francesco Manenti and Riccardo Palmieri
artistic consultancy Giorgio Rossi
artistic collaboration Riccardo Palmieri
scenography Andrea Conti
co-production Sosta Palmizi 2010, Arci Aur-Ora Piccolo Teatro 2010, Lo sguardo dell'altro, Rete teatrale aretina 2011
with the support of Teatro di Castiglion Fiorentino
Teatro Biblioteca Quarticciolo, Roma
Festival Sassari, Teatro Civico, Sassari (SS)
Festival Trasparenze, Teatro dei Venti, Modena (MO)
Kilowatt Festival, Complesso Santa Chiara, Santachiara (AR)
Aula Magna Santa Chiara, Sansepolcro (AR)
Teatro Comunale, Bucine (AR)
Teatro Comunale, Castiglion Fiorentino (AR)