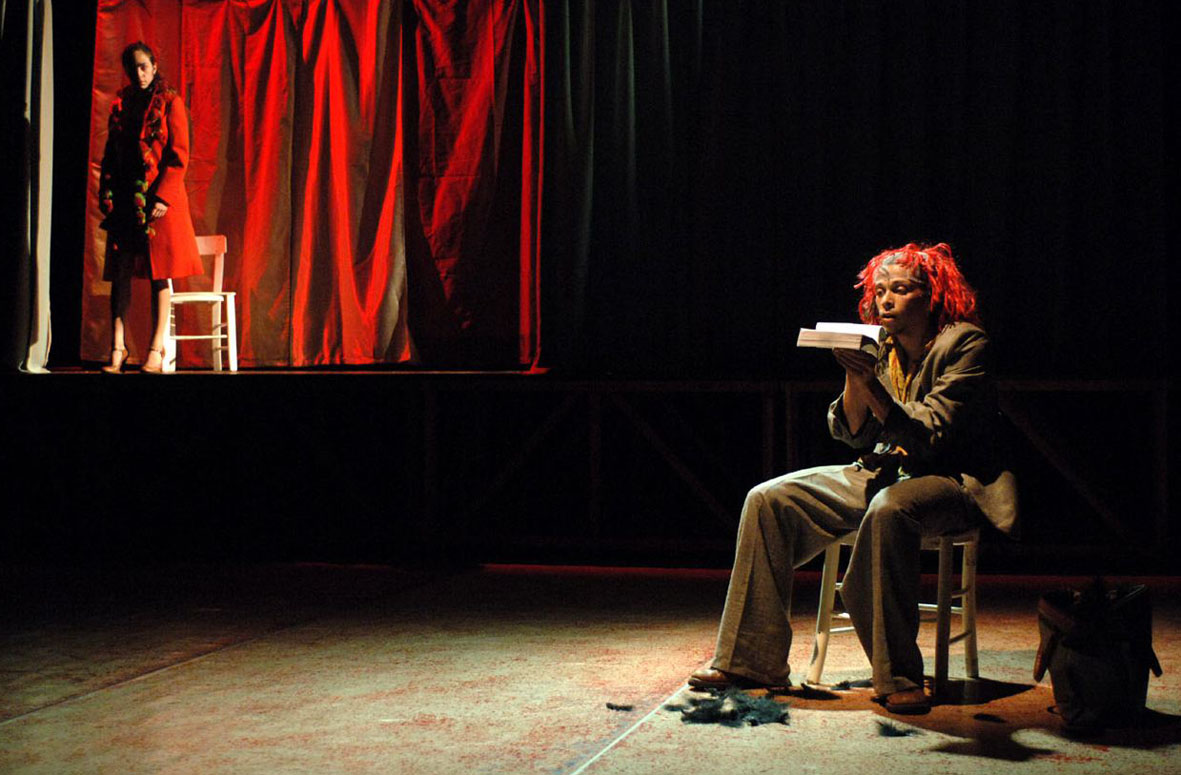 ideation and mise en scene Giorgio Rossi
narrating movements of the shaky dance–actors Piera Gianotti' Emanuel Rosenberg' Cecilia Ventriglia' Elisa Canessa/Amina Amici' Francesco Manenti/Alfredo Zinola
light design Mara Cugusi
costumes Roberta Vacchetta
music Harald Weiss' Stimmhorn
original music Mirio Cosottini
production sosta palmizi
coproduction Fondazione Teatro Comunale di Modena' Teatro Comunale di Chiasso (CH)
and supported by Bassano Opera Estate Festival
the fabrics are offered by Silk concept store – Como
Playing with the fairytale universe is the same as going deep in the hidden feelings of oneself existence and myths. Leave the different to show itself in the simplicity of acting on the stage' where expression is not rationality' but ancestral memory.
Shreds of fairytales are stringed as little beads in the memory place.
Leaving them blasting' mixing themselves in a surreal way' touching the tale's core without explaining it' nonetheless revealing it in its profoundest essence.
A childlike gaze will easily recognize the sense of acting and happening in the place of event' decoding occurrences without judgment and with a pleasure proper of the human being' floating amongst astonishment and incredulity' recognition and amusement
I saw it in the children's gaze' I heard it in their breathe' I perceived it in their attention and moved me and let me feel a privileged and vital part of this world.
Giorgio Rossi
It is a perfectly fitting title, the exploded fairy tale, the one chosen by choreographer Giorgio Rossi for his new creation. Inspired by Italo Calvino's fairy tales, the show constitutes a new stage in the constant investigation on man and his emotions that Giorgio Rossi, author and performer with a delicate and poetic touch, has been carrying out for over twenty years together with the historical company Sosta Palmizi.
Ada D'Adamo, Diario, 13 maggio 2005
ideation and mise en scene Giorgio Rossi
narrating movements of the shaky dance–actors Piera Gianotti' Emanuel Rosenberg' Cecilia Ventriglia' Elisa Canessa/Amina Amici' Francesco Manenti/Alfredo Zinola
light design Mara Cugusi
costumes Roberta Vacchetta
music Harald Weiss' Stimmhorn
original music Mirio Cosottini
production sosta palmizi
coproduction Fondazione Teatro Comunale di Modena' Teatro Comunale di Chiasso (CH)
and supported by Bassano Opera Estate Festival
the fabrics are offered by Silk concept store – Como
21.12.2007
Brescia
20.11.2007
Corte Ospitale – Rubiera
12.05.2007
Sala polivalente – Comacchio
22 > 24.03.2007
Teatro Cittadella – Modena
20 > 21.03.2007
Teatro Comunale – Casalecchio (BO)
10>11.11.2007
Teatro Kismet – Bari
22.01.2006
Castelnuovo Berardenga (SI)
10 > 11.11.2006
Teatro Kismet – Bari
06.09.2006
Theatre de La Lenche – Arles
11.07.2006
Estate Teatrale Veronese – Verona
24 > 26.03.2006
Centro Cultural de Belem – Lisbona (Portogallo)
11 > 12.03.2006
Teatro Nuovo – S.Vito al Tagliamento (PN)
2 > 3.03.2006
Teatro Palladium – Roma
08 > 18.02.2006
Teatro Litta – Milano
02 > 3.02.2006
Teatro al Parco – Parma
18 > 19.11.2006
Mantova
17.08.2005
Tagliacozzo (AQ)
07.08.2005
Salzano a Fili (VE)
05.08.2005
Bassano del Grappa (VI)
30.07.2005
Festival Il grande Fiume – Piacenza
28.05.2005
Gioia del Colle – (BA)
20.05.2005
Chiasso (SVIZZERA)
20 > 21.04.2005
Teatro delle Passioni – Modena prima nazionale
15.04.2005
Teatro Petrella – Longiano anteprima