Il vestito della scimmia (2004)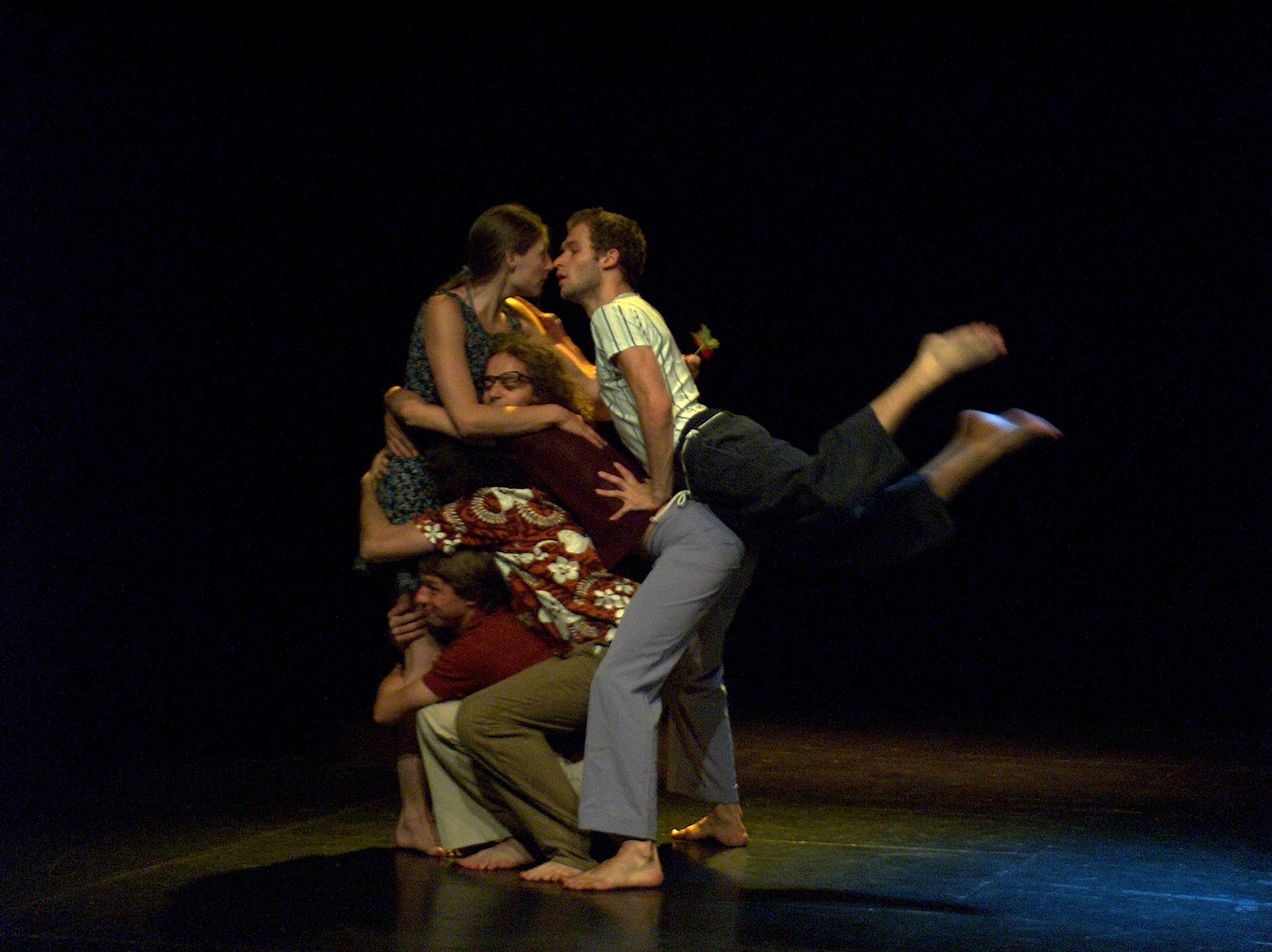 direction Giorgio Rossi
interpreters Jonas Althaus' Luisa Braga' Federico Dimitri' Piera Gianotti' Jean Martin' Heike Moehlen' Fabrizio Pestilli' Emanuel Rosenberg' Anina Sedlacek'
Stephanie Saner' Giuseppe Spina
lighting design Helena Moesch
lighting Lorenzo Bucci
thanks to Giovanni Venosta' Stephanie Saner
production Sosta Palmizi e Scuola Teatro Dimitri – creazione teatrale e teatro burlesco di Verscio(CH)
The performance draws from the book "La scimmia nuda" by the ethologist and anthropologist Desmon Morris.
Ironically and with tinges of poetry' differrent aspetcs of man are highlighted' showing that our origin is animal.
The twelve young interpreters' actors of the body and of the scene' trigger off a playful and tragicomic remark on the human condiction' on our habites and instincts.
The man' even with an high ability of wondering' creating' understanding' controlling' inventing' building and modifing the world' remains an undefended being' limited and conditioned by own origines.
direction Giorgio Rossi
interpreters Jonas Althaus' Luisa Braga' Federico Dimitri' Piera Gianotti' Jean Martin' Heike Moehlen' Fabrizio Pestilli' Emanuel Rosenberg' Anina Sedlacek'
Stephanie Saner' Giuseppe Spina
lighting design Helena Moesch
lighting Lorenzo Bucci
thanks to Giovanni Venosta' Stephanie Saner
production Sosta Palmizi e Scuola Teatro Dimitri – creazione teatrale e teatro burlesco di Verscio(CH)
18.12.2005
Correggio (RE)
18.12.2005
Correggio (RE)
15.12.2005
Modena
13 > 14.12.2005
Cortona (AR)
12.12.2005
Piacenza
11.12.2005
Mirandola
10.12.2005
Soresina
12.05.2005
Teatro del Parco – Mestre (VE)
19.03.2005
Verbania
16.03.2005
Capannone di Montanare – Cortona
17.03.2005
Brescia
13 > 28.11.2004
Teatro Litta – Milano