E la tua veste è bianca (1996)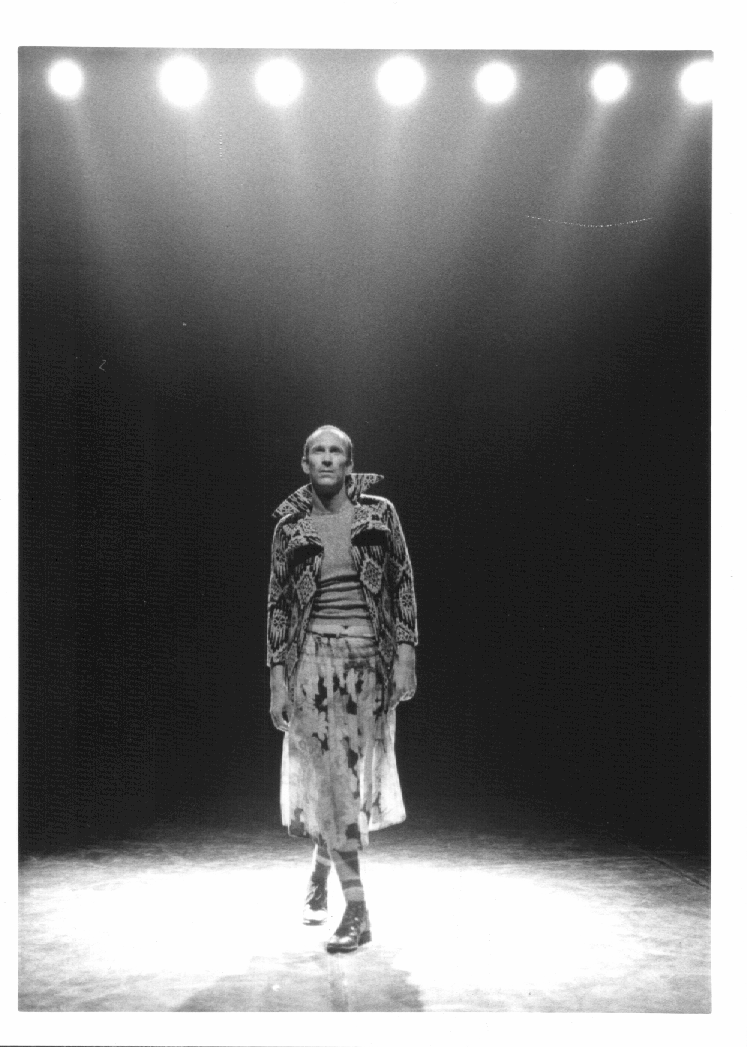 by and with Giorgio Rossi
costumes Giorgio Rossi
lighting Mara Cugusi
music Anouar Brahem' Billie Holiday' Residence
textes Salvatore Quasimodo' Friedrich Nieztsche
"And your dress is white" is an attempt to combine movement in space with my feeling about this world that transforms everything. I pass from a warm and ironic harmonic dance, that is played perhaps under the Shahrazàd tent in the middle of the desert, at spring sunset, in front of fresh and open faces of enchanted maidens, that fascinate me in the land of fantasy to the smile between the slightly perverse and the amused' in the chaos of the apparent order of this world made of silicone egoisms with faces of cathode ray tubes' that are indifferent to the daily massacres and attentive to the appearance of looking happy and nauseated.
The Dance ends in self-destruction, happy to shoot and shoot themselves and cut their own asses off, gutting themselves in a kitsch ritual of great happiness, that comes to us from the U.S.A. and throws away.
And your dress is white (1920-1929)
You bent your head and you stare at me,
and your dress is white,
and a breast appears from the lace
undone on your left shoulder
The light passed me; trembles
And touches your bare arms.
I see you again. You had
closed and fast words,
that put heart
in the weight of a life
which tasted of circus.
Deep is the road
On which the wind descended
Some nights of march,
and woke us up unknown
as the first time.
Salvatore Quasimodo
In "E la tua veste bianca" and "Balocco" recur the eternal ironic melancholy of that saying verses in movement that make Giorgio Rossi his original interpreter, singer of a world out of time animated by the feelings entrusted here to these two comedians who are alone in small gestures, details like rhymes and dance with a solid construction poised between contemporary movement and a circus of everyday fantasy.
Sergio Lacavalla, Open rehearsals, june 2001
by and with Giorgio Rossi
costumes Giorgio Rossi
lighting Mara Cugusi
music Anouar Brahem' Billie Holiday' Residence
textes Salvatore Quasimodo' Friedrich Nieztsche
30.07.1996
Teatro del Mare, Quartu Sant'Elena, Cagliari
22.03.1997
Teatreno, Mantova
25.10.1997
Cinema Moderno, Solitamente II, Fratta Santa Catarina, Cortona (Ar)
21.11.1997
Tam TeatroMusica, Padova
22.11.1997
Sala Gervasi, Solitamente II, Foiano della Chiana (Ar)
16.01.1998
Paint Factory, Pistoia
5.02.1998
Teatro San Giovanni Bosco, Modena
6.02.1998
Stagione zero, Teatro Zero, Modena
19.05.2000
Festival Nouvelle Danses, Strasbourg, Francia
21.07.2000
Teatro all'aperto di Vignale, Monferrato (Al)
31.08.2000
Teatro Concordia, Borgo Maggiore, San Marino
9.11.2000
Stagione La danza e le arti, Teatro Gustavo Modena, Genova
13.01.2001
Auditorium Comunale, Ponteranica (Bg)
8.02.2001
Theatre de la ville, Rosain (Ao)
6-7.03.2001
Teatro dell'Arte, milano
3.05.2001
Teatro Furio Camillo, Roma
8.06.2001
Festival Utopia del Buongusto, Persignano (Pi)
26.06.2001
Festa del Solstizio d'Estate, Palazzo Te, Mantova
28.06.2001
InCastro Danza, Villa Milesi, Lovere (Bs)
3.07.2001
Adda Danza, Corte del comune, Masate (Mi)
1.08.2001
Chiostro Duomo, Prato
21.12.2001
Cantieri Teatrali Koreja, Lecce
04-05.04.2002
Scenario pubblico, Catania
Other productions by Giorgio Rossi