Da dove nascono le stelle (2015)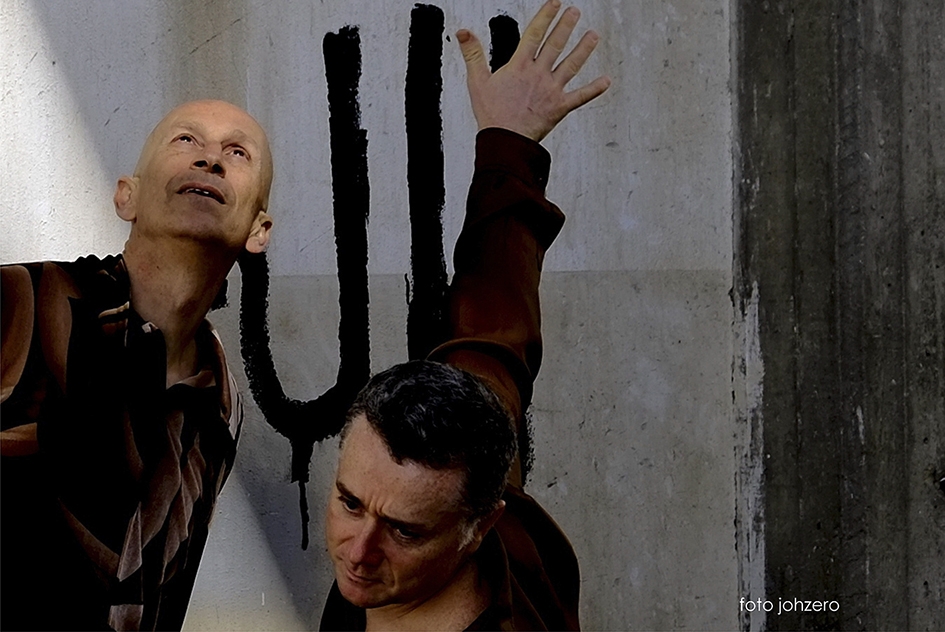 created by Giorgio Rossi e Simone Sandroni
adapted and rearranged by Giorgio Rossi
performed by Giorgio Rossi e Simone Sandroni (prima versione) ; Elisa Canessa e Fabritia D'Intino (seconda versione)
lights Cesare Lavezzoli
assistant to the rearrangement Eleonora Chiocchini
costumes by Giorgio Rossi
texts by Simone Sandroni, Giorgio Rossi, Elisa Canessa
thanks to the collaboration of Elvira Zuñiga Porras, Erica Archinucci
production Déjà Donné, Associazione Sosta Palmizi
In this new creation of the two artists, Simone Sandroni and Giorgio Rossi meet once again on stage after years since "Piume", a performance presented at the Lyon Dance Biennial in 1998. 
The idea of working on this project comes from a series of performances and improvisations that the two choreographers did together in 2013 and 2014.
Working notes_April 2015
"There are billions of stories and the one we are going to tell is ours. A story made of true stories that never happened, true stories that we will not tell and true stories that do not belong to us.
Stories that we have been searching for all our lives and that we will continue to search for, venturing as far as the place where everything is born and where the stars are born.
Because art, as opposed to drugs, ideologies and the concept of eternity, is the most credible of all lies"
Simone Sandroni
"One day in the spring in a wood, many years ago, I let the rain wash over me, chasing a girl.
At that time everything had yet to happen, love, friends, life, experiences, and here I am today, and so much has happened, I don't remember it so well.
Everything is blurred and maybe I have invented many memories that still excite me like that day in the woods, no matter if it is true.
Since my heart is beating fast and my eyes are filled with life and the love for the infinite has never ceased.
With "Da Dove Nascono le Stelle " that lights has come back on" – Giorgio Rossi
Working notes_January 2015
The story of this work is us, because of the path and the experience we have, and every time we go on stage, however, we become the story itself. Being together with our differences of feeling, being and manifesting in time and space, this will be the main spark to create. Through dance, which is our passion and our profession, we are able to express the inexpressible and emotions in their clarity and universality. We are at an age where every virtuosity is unrealistic, but like two old olive trees we show all our experience in the roots, the trunk, the branches and the leaves, and the juicy fruits are always born from fragile, tender and ephemeral flowers, like the first time. 
We have no certainties, but a desire and a need to transmit all the life we contain, and we hope that in the time of the scene we can transpose it into silent emotion and intensity, leaving those who look at us with lightness, joy and emotion.
"In the place where nothing is too small or too big, where lies support the truth and paradox is the rule, in that precise place you blindly believe everything you hear or see, not to understand a truth without error, but to discover the path to the truth of the dream. That is the place where we meet who we would like to be and where we accept what we are, the place where the mystery is revealed and we understand Where the Stars Are Born"
Simone Sandroni
We appeared on this planet one day, through an act, hopefully of love, of the union of two distinct beings and we are the result of this union. We are nourished by love and we try despite ourselves to unite with someone else.
Giorgio Rossi
created by Giorgio Rossi and Simone Sandroni
adapted and rearranged Giorgio Rossi
performed by Giorgio Rossi e Simone Sandroni (first version) ; Elisa Canessa e Fabritia D'Intino (second version)
lights Cesare Lavezzoli
assistant to the rearrangement Eleonora Chiocchini
costumes by Giorgio Rossi
texts by Simone Sandroni, Giorgio Rossi, Elisa Canessa
thanks to the collaboration of Elvira Zuñiga Porras, Erica Archinucci
production Déjà Donné, Associazione Sosta Palmizi
18.02.16 
Teatro Comunale Mario Spina Castiglion Fiorentino (AR)
04-05-06.12.15 
Teatro Vascello – Roma
02.12.15
 Teatro Rosini – Lucignano (AR)
30.11.15
 Studio Sosta Palmizi  – Cortona (AR)
08.05.15
 Teatro di Anghiari – Anghiari (AR)
17.04.15
 Teatro B.Brecht – Perugia
12.04.15
 Teatro Mecenate rassegna Invito di Sosta – Arezzo