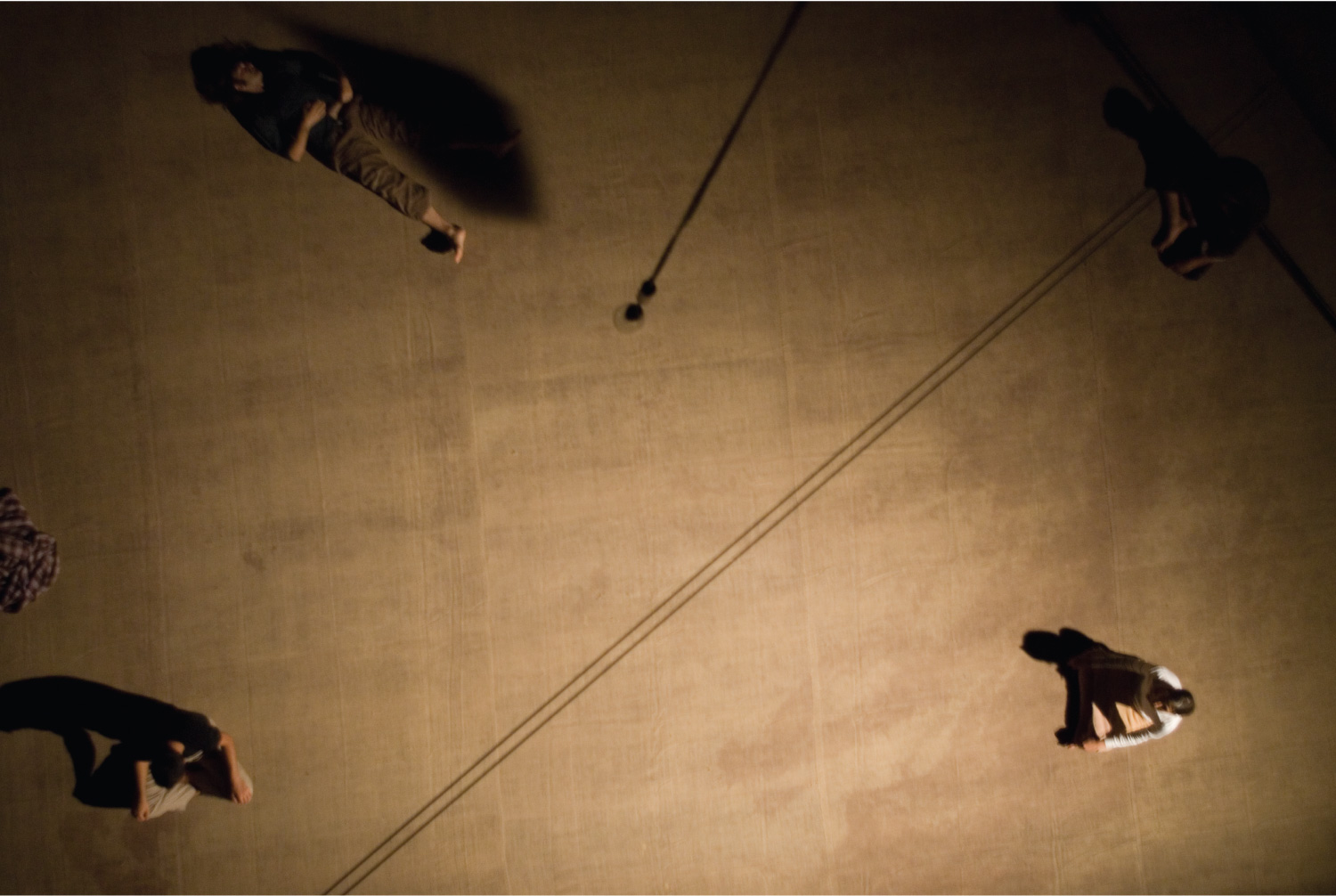 conception and movements Raffaella Giordano
with Aurélien Zouki' Elisabetta Sbiroli' Fabio Pagano' Raffaella Giordano' Olivier Maltinti' Paola Comis' Valentino Infuso
collaboration to the project Claudio Conti
light Bruno Goubert
sound design and composition Lorenzo Brusci ⁄ timet
additional sound Davide Tidoni' Oliver Night' Andrea de Luca' Lucio Capace
sound assistant Davide Tidoni
light assistant Alessia Massai
general organisation Romana Walther
special thanks to Snejanka Mihaylova' Doriana Crema
co-production sosta palmizi' Cortona – Théâtre Garonne' Tolosa – Théâtre les Bernardines' Marsiglia – Festival delle colline torinesi' Torino – Teatro Comunale di Modena Fondazione' Modena
with the support of Compagnie Ô Fantômes ⁄ Gérard Lorcy' Francia
The birth of a performance is often a long process.
I lived this journey with reserve' aware I was tackling profound and delicate issues' confident of telling about something very near and intimately related.
Simple words mysteriously flow from natural complexity; they are inscribed in the vital order of things' of human beings' of the universe.
I wanted to preserve this simplicity and remember that a single gesture contains a miracle of essence.
We approached the Last Supper episode' in the dynamics of the event represented by Leonardo's painting… We went through a precious silence and time' letting the intricacy of our hearts reveal the footsteps and the path to follow.
Which table' which doubt' which nourishment' which faith' which resurrection' which void' which fear' what's betray.
Since I didn't want to talk about a priori constructions' I could only look into our re-volutions. I recognized in our bodies our resistance to ourselves' to the other.
We felt that the dynamics of the painting were at stake in every instant' in our movements: a void like the explosion of a presence' a doubt a suspension full of answers' a hand held out' a step forward like a rebirth.
I always lived the body as the concrete site of mystery.
I believe in its power to meet' through its terrestrial experience' transcendent forces rebuilding its humanity.
Body's life exist through a plenty relation between inside and outside' a movement disclosing our answer to life' a loneliness becoming only in uninterrupted reciprocality.
All this may continue when we'll come into play through the eyes of the audience' the presence of a larger group of human beings will add strength to this alive and unrepeatable process.
Raffaella Giordano
Raffaella Giordano's new performance seeks in the dark side of each performer a ground to measure' a light to reveal. This work meets' meditates on' has its origins in Leonardo's Last Supper' but doesn't want to be a representation of it. Raffaella Giordano's performances don't rely only on the body. Movement unfolds from heart' thought and emotions' which' intertwined' translated or betrayed by the stage' transform choreography into a thin thread' stretched between us and the world. To the title "Cooking the World" we could add: kneading' preparing' and transforming it. A dance laid bare' with no tricks nor safety nets' which explores the risky boundaries of common fate' destructuring the pattern of performance and speaking of the difficulty and necessity of living together.

Stéphane Boîtel' Théâtre Garonne – Tolosa
conception and movements Raffaella Giordano
with Aurélien Zouki' Elisabetta Sbiroli' Fabio Pagano' Raffaella Giordano' Olivier Maltinti' Paola Comis' Valentino Infuso
collaboration to the project Claudio Conti
light Bruno Goubert
sound design and composition Lorenzo Brusci ⁄ timet
additional sound Davide Tidoni' Oliver Night' Andrea de Luca' Lucio Capace
sound assistant Davide Tidoni
light assistant Alessia Massai
general organisation Romana Walther
special thanks to Snejanka Mihaylova' Doriana Crema
co-production sosta palmizi' Cortona – Théâtre Garonne' Tolosa – Théâtre les Bernardines' Marsiglia – Festival delle colline torinesi' Torino – Teatro Comunale di Modena Fondazione' Modena
with the support of Compagnie Ô Fantômes ⁄ Gérard Lorcy' Francia
25>26.09.2007
Es.Terni Festival Internazionale della Creazione Contemporanea, Terni (TR)
18.07.2007
Bolzano Danza' Teatro Comunale – Bolzano (BZ)
03>04.07.2007
Festival delle Colline Torinesi' Fonderie Limone – Moncalieri (TO)
04>05.05.2007
Contemporanea 07 Teatro Metastasio – Prato (FI)
03>04.04.2007
Teatro Comunale di Modena Fondazione – Modena (MO)
22>27.03.2007
Théâtre des Bernardines Marsiglia – Francia
13>17.03.2007
Théâtre Garonne Tolosa – Francia
Other productions by Raffaella Giordano