Col naso all'insu' (2016)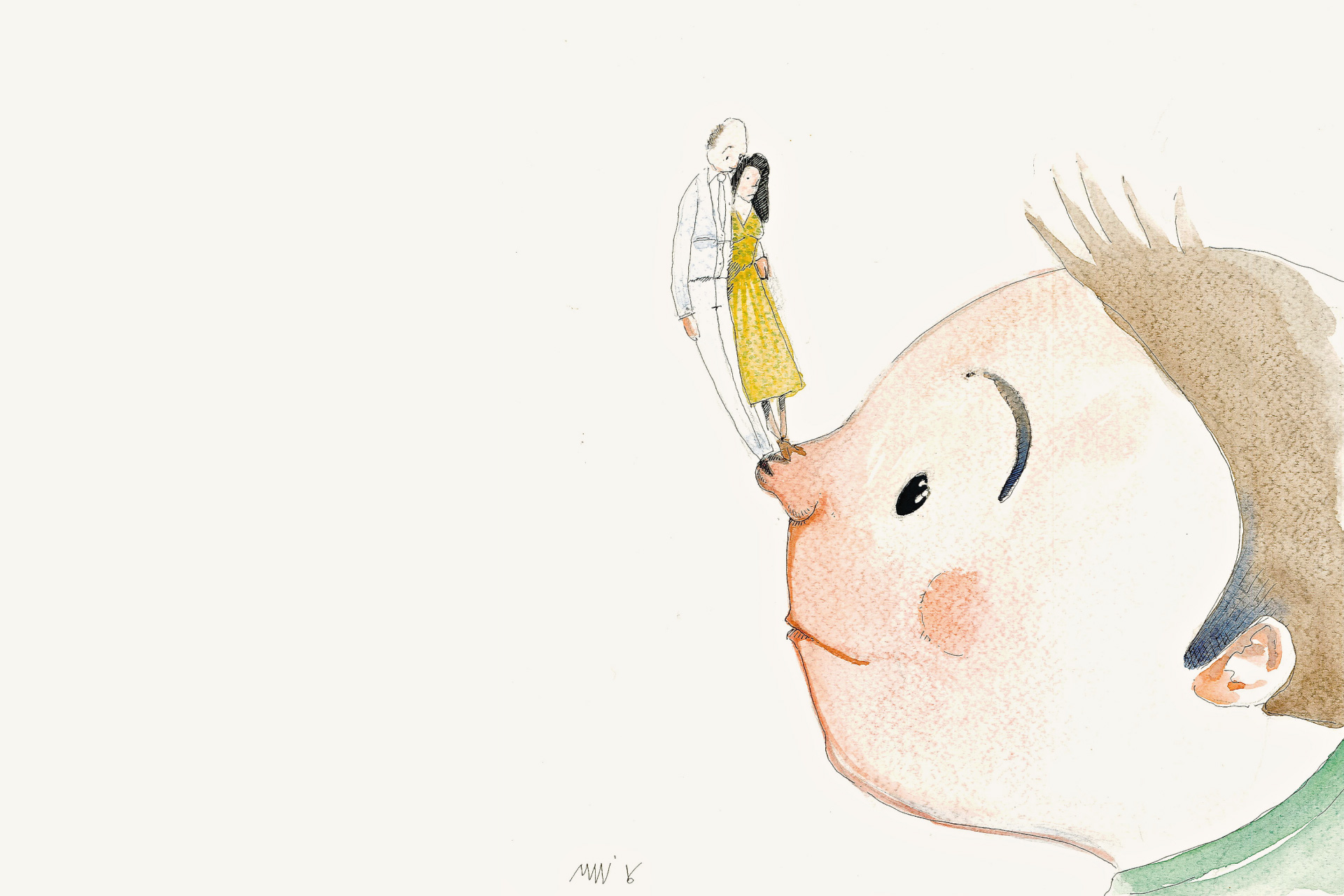 from an idea by Giorgio Rossi
created by Giorgio Rossi, Elisa Canessa, Federico Dimitri and Francesco Manenti
dramaturgical path Nadia Terranova
performers Elisa Canessa, Federico Dimitri and Francesco Manenti
costumes Roberta Vacchetta
illustrations and scenes Francesco Manenti
production Associazione Sosta Palmizi
with the support of Armunia
for children from 5 years old
50 minutes
We are at Kronos, a timeless place where three bizarre characters work in white lab coat. Precision, efficiency, natality: here you decide the fate of every unborn child, from here they send the child to the prospective parents according to strict rules which no one, since the time of Adam and Eve, has never called into question. Until one day a future child stands up: he just can't get over it, he won't accept that someone decides for him. He wants to choose for himself. But you cannot choose your parents. Or maybe yes … During the show are shown, narrated and danced different kinds of parents: funny, playful, tender but also angry, nervous, absent. IUnlimited is the catalog of the candidates, and endless are the nuances that each of them hides behind appearances because there is always something unexpected. On who will fall the choice?
Col naso all'insù is a free game in which the emotions and behaviors become the inspiration for the creation of a spectacular time between word, dance, clowning and music. It is a hymn to the power of imagination and freedom. An opportunity to entertain, amaze, and gently give a pause.
One of the inspirations comes from the "Parents' Catalogues", a book written by Claude Ponti where children can watch a hilarious parade of types of fantastic and surreal parents. Other fundamental readings have been the writings by Jorge Luis Borges and Stefano Benni, where imaginative animals inhabit parallel worlds and imagination has no boundaries.
The most profound inspiration that we recognize as authors to the creation of the show is that of being children, even before parents because as Antoine de Saint-Exupéry's wrote in "The Little Prince": I will dedicate this book to all the adults who were children one time. (But few of them remember it).
from an idea by Giorgio Rossi
created by Giorgio Rossi, Elisa Canessa, Federico Dimitri and Francesco Manenti
dramaturgical path Nadia Terranova
performers Elisa Canessa, Federico Dimitri and Francesco Manenti
costumes Roberta Vacchetta
illustrations and scenes Francesco Manenti
production Associazione Sosta Palmizi
with the support of Armunia
for children from 5 years old
50 minutes
17.12.2017
Teatro Gustavo Modena Piccoli Palchi ERT FVG Palmanova (UD)
26 -27 .11.2017
Nuovo Teatro delle Commedie Livorno
4 -5.11.2017
Teatro Vascello Roma
12 .10.2017
Teatro Cuminetti Festival Y Generation Trento
17 .07.2017
Villa Murri Festival I Teatri del Mondo Porto Sant'Elpidio (FM)
6.07.2017
Piazza Piccinini Festival Favolando Rastignano (BO)
1 .07.2017
Monastero del Lavello Rassegna I luoghi dell'Adda Calolziocorte (LC)
20 -21.04.2017
Teatro Fabbricone Stagione Millepiedi Prato
5 -6.03.2017
Teatro della Misericordia Kilowatt dei ragazzi Sansepolcro (AR)
5 .02.2017
Artificerie Almagià Today Todance Le arti della marionetta Ravenna
18-19.12.2016
Teatro Mario Spina Castiglion Fiorentino (AR)
14.12.2016
Teatro Pietro Aretino Altre Danze Arezzo
13.12.2016
Teatro Signorelli Altre Danze Cortona (AR)
11- 12.12.2016
Teatro Mecenate Altre Danze Arezzo DEBUTTO
9 .12.2016
Teatro Signorelli Altre Danze Cortona (AR) STUDIO
4 .12.2016
Sala Prove La Fratta Cortona (AR) STUDIO
25 .11.2016
Castello Pasquini Stagione Castiglioncello (LI) STUDIO
Other productions by Giorgio Rossi