PERFORMANCE FOR A SINGING BODY
AND DANCING VOICE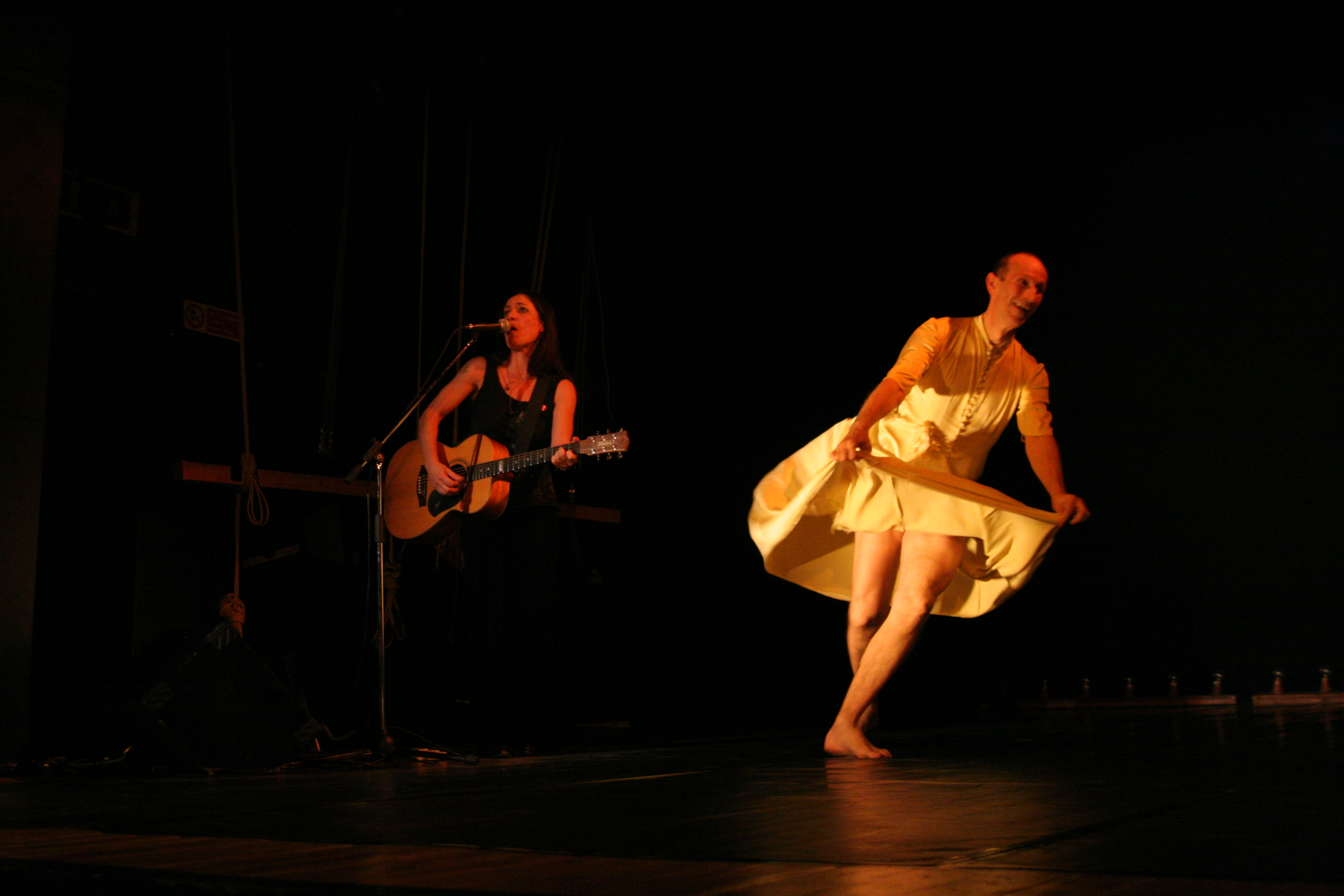 by and with Giorgio Rossi' Paola Turci
produced by Sosta Palmizi' On the Road Agency
A dancing concert performing two artists: the singer song− writer Paola Turci and the author− dancer Giorgio Rossi. Sky is born from the need of approching a woman's singing to a man's dancing.
Pure voice and pure body.
Sharing the stage has been the origin of a performance where Paola Turci'8218; varied actions voice is accompanied by Giorgio Rossi's movings and where viceversa his dancing succeded in going deep into her words.
All of that has been possibile in a flexible' varied action−space having in the end its own rithm.
THE UNTOLD CONCERT OF THE SINGER PRODUCED BY SOSTA PALMIZI AT ROCCELLA JONICA
Paola Turci' a dancing voice in a jazz performance
ROCCELLA JONICA. It's her:"Paola guitar" with stripe' her borchestra always and ever "the true one"' the artist who knows the deepness of things and at the same time she's the one who says I don't understand things well enough.
In a few words' Paola Turci' vibrant woman unmistacably beautiful' an amber skinned one and that color reminds her vocal cords too. She created "Sky" and plays it as main voice also performed by Giorgio Rossi (Sosta Palmizi)
It's something like a camouflage concert very inique not only because of the former is never a comment and the latter is never ever a portraying. In fact they both work out a rigorous sintax which emotionally involves sound and moving.
Carmelita Celi – La Sicilia' 26 agosto 2006
MEDITERRANEA SOUNDS
ON STAGE Giorgio Rossi
Paola Turci persuaded and endeared Roccella
"Inserting in the section Mediterranean sounds (a Jazz Festival) somebody like the roman singer song−writer Paola Turci who's making a duet with one of the most creative italian choreographers and dancers Giorgio Rossi' it has been judged by some people an unusual choice although a winning one (we shouldn't forget that the bravery itself of passing through new artistic paths determined the festival success)… "Sky " is a great dancing performance' a brave project which showed us Paola Turci more a san intimate performer rather than a rock star like in the past. She has been very good in reining a continuous playing based upon cross−references and quotations between her deep' smooth voice and the light dancing of Giorgio Rossi."
Stefania Perrone – Gazzetta del Sud' 26 agosto 2006
by and with Giorgio Rossi' Paola Turci
produced by Sosta Palmizi' On the Road Agency
22.09.2010
Castello Aragonese – Taranto
08.08.2010
Anfiteatro degli Argonauti – Marina di Pisticci (MT)
06.03.2010
Teatro Tatà/Crest – Taranto
26.02.2010
Teatro Caro – Civitanova Marche (MC)
06.02.2010
Teatro Kismet – Bari
16.12.2009
Teatro Verdi – Sassari
12.12.2009
Teatro Ferdinando Quartieri – Massa Carrara
03.09.2009
Giardino Centro Culturale Santa Chiara – Trento
16.07.2009
Piazza Bice Piacentini – San Benedetto del Tronto (AP)
11.07.2009
Ponte di Veja – Sant'Anna d'Alfaedo (VR)
03.07.2009
Anfiteatro Monte Sirai – Carbonia
02.07.2009
Teatro Civico in Castello – Cagliari
01.07.2009
Parco di Villa Ticca – Cala Gonone (NU)
14.06.2009
Parco Mazzini – Salsomaggiore (PR)
07.02.2009
Romanengo (CR)
24.01.2009
Stabio (SVIZZERA)
22.01.2009
Auditorium Parco della Musica – Roma
05.10.2008
Carpi (MO)
07.09.2008
Pratovecchio (AR)
24.08.2008
Museo Madre/Cortile – Napoli
24.07.2008
Giardini Ducali – Modena
19.07.2008
Porto Azzurro – Isola d'Elba
29.05.2008
Padova
30.04.2008
Montepulciano (SI)
28.03.2008
Teatro dei Vigilanti – Portoferraio (LI)
14.03.2008
Teatro dei Concordi – Campiglia Marittima (LI)
16.02.2008
Camploy – Verona
15.02.2008
ExGil/Teatro del Parco – Mestre (VE)
14.11.2007
Teatro Bismantova – Castelnovo ne' Monti (RE)
13.11.2007
Teatro Comunale – Lecco
10.11.2007
Spazio Officina – Chiasso (CH)
26.05.2007
Auditorium Conciliazione – Roma15 >
16.03.2007
Teatro Bicchieraia – Arezzo
11.03.2007
Teatro Comunale – Roccastrada (GR)
14.12.2006
Ottaviano Napoli
17.11.2006
Teatro Villa dei Leoni – Mira (Ve)
25.08.2006
Roccella Jonica (RC)
Other productions by Giorgio Rossi