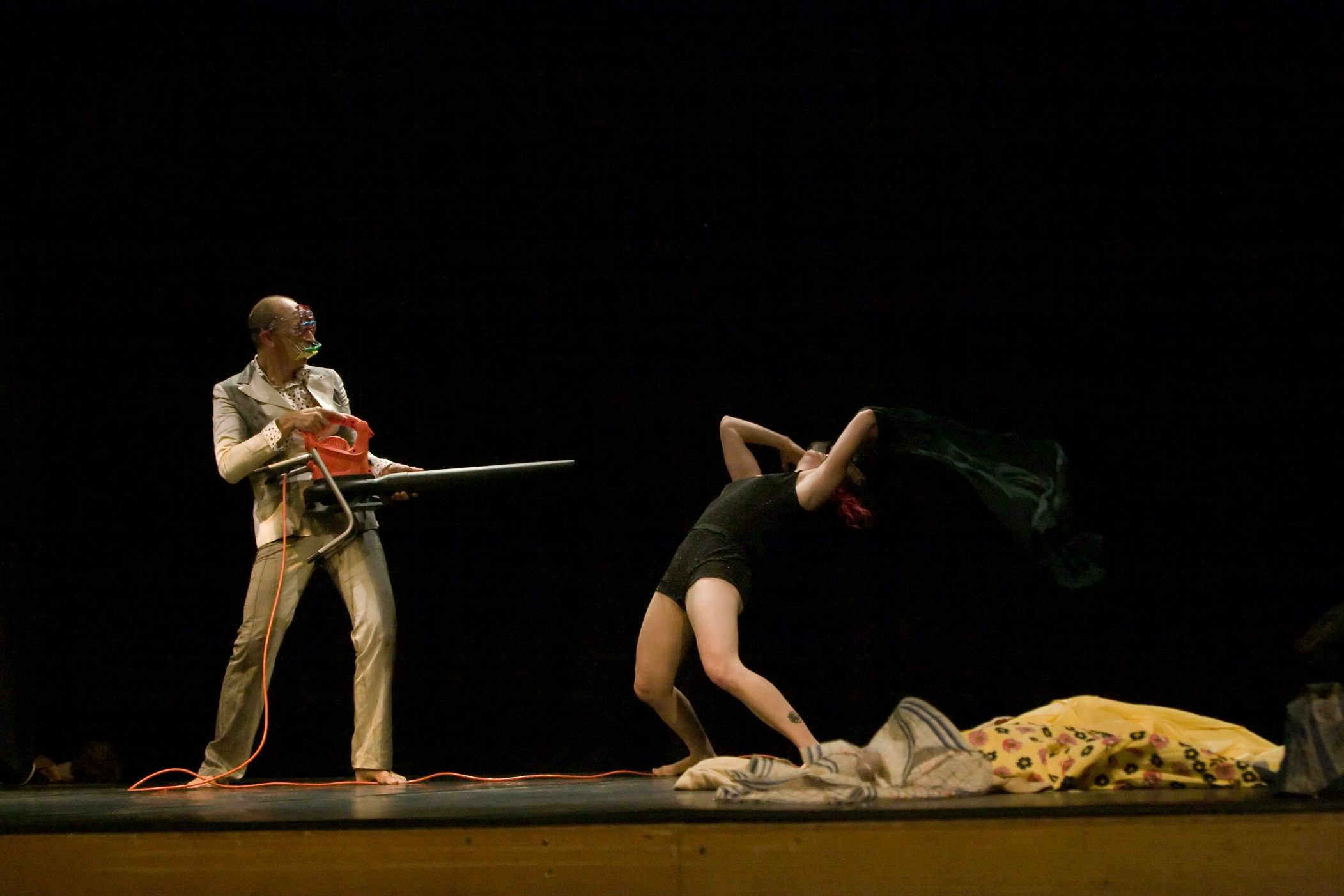 based on an idea by Giorgio Rossi
with Giorgio Rossi' Vincenzo Carta' Elisabetta Di Terlizzi' Paolo Fossa
original music created and performed live by Alessandro Gwis (Aires Tango)' Roberto Cecchetto (DownTown Trio)' Michele Rabbia (Aires Tango)
lighting design Mara Cugusi
costumes Roberta Vacchetta
organization Giovanna Milano
co−produced by Sosta Palmizi' Time in Jazz Festival' Nuoro Jazz Festival
A game in which four dancers and three musicians appear on the scene of time where bodies are transformed' dressing up to represent the changes they feel in their souls' in their instincts' and in their sense of belonging to the world in which we live.
Starting from the musicality of the adverb 'Animatamente'' the work evolved through the improvisational work of the performers towards a universe of metamorphoses and actions where dream unites with the surreal.
The performance is slowly taking shape. At the moment there are three movements that can be described as:
"ANIMA" (SOUL): The fluidity of the trunk' moved by a continuous and endlessly circulating force. The dancers drive each other towards a scene resembling the furies of the underworld' who are stopped by a female gesture at the same time firm' delicate and contained. The living being confronts its own physicality. The body−soul?
"MENTE" (MIND): The place where the metamorphosis of the dream of the absurd and of chaos takes place. One after another' the figures flow incessantly along pathways where memory is tied to sensations and the free association of ideas' which create situations of surreal ritual and touch with irony memories we recognise as part of our lives. The body−mind?
"AMATA" (BELOVED): The desire to present us with a scene where a couple's comic relationship is the necessary response to the previous two parts. The route followed so far is now completely distorted' and we enter a universe of dance theatre with an easy' recognisable style – as if to say that apparently' we know how to recognise what is fundamentally external to us all. The body of the beloved?
based on an idea by Giorgio Rossi
with Giorgio Rossi' Vincenzo Carta' Elisabetta Di Terlizzi' Paolo Fossa
original music created and performed live by Alessandro Gwis (Aires Tango)' Roberto Cecchetto (DownTown Trio)' Michele Rabbia (Aires Tango)
lighting design Mara Cugusi
costumes Roberta Vacchetta
organization Giovanna Milano
co−produced by Sosta Palmizi' Time in Jazz Festival' Nuoro Jazz Festival
20.03.10
Teatro Colombo – Valdottavo (LU)
03.12.09
Teatro dell'Arte – Milano
0
8.11.09
 Teatro Comunale – Castiglion Fiorentino (AR)
19.09.09 
La Corte dei Miracoli – Siena
31.08.09
 Teatro Eliseo – Nuoro
13.08.09
 Piazza del Popolo – Berchidda (SS)
01.08.09
 Castello Masegra -Sondrio
18.07.09
 Corte Mercato Vecchio – Verona
Other productions by Giorgio Rossi