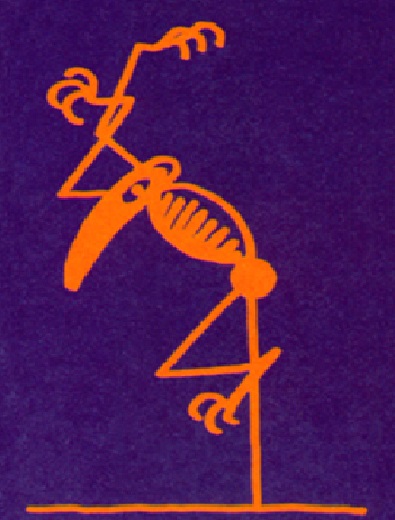 directed by Giorgio Rossi
with Giorgio Rossi e Vasco Mirandola
and Elisa Canessa' Piera gianotti' Francesco Manenti' Emanuel Rosenberg' Cecilia Ventriglia
musics Mirio Cosottini
production sosta palmizi
produced by sosta palmizi
In a heartfelt tribute to Andrea Pazienza' Giorgio Rossi' founder of Sosta Palmizi' and his dancers enact the notes and words of Mirio Cosottini' read and interpreted by Vasco Mirandola.
Andrea Pazienza was the undisputed pioneer of the new form of Italian comics. He worked in all fields of drawing and illustration' and also wrote essays and poetry. Considered as one of the most authentic storytellers of our age' through his 'graphic novels' he was able to represent the destiny' abstractions' madness' genius and despair of an entire generation.
This work by Giorgio Rossi and Fabio de Luigi traces the life of the most controversial Italian comic book artist through his poetic writings – at times crude' but always bearing his own particular delicacy and originality. Two men' like two sides of a single mind: a body' a voice and a backdrop – also painted by Andrea. Two types of irony' two comic spirits with a single memory… that of a friend and genius: A.Paz.
My name is Andrea Michele Vincenzo Ciro Pazienza and I'm twenty−four years old. I'm one metre and eighty−six centimetres tall and I weigh seventy−five kilos. I was born in San Benedetto del Tronto' my father is from Puglia and I have a twenty−two−year−old brother and a fifteen−year−old sister.
I've been drawing since I was eighteen months old and I know how to draw anything in any way. I've been living alone for eleven years. I studied at a high school for art' have had ten solo shows' and in 1974 I became a partner in an art gallery called Convergenze in Pescara' a place for meeting and sharing information and a communal art workshop. In same year I was in the Bolaffi catalogue.
I've been living in Bologna since 1975. I was a card−carrying member of the Marxists−Leninists from 1971 to 1973. I'm shortsighted' slightly cross−eyed' and have a couple decaying' untreated molars. I smoke very little. I shave every three days' wash my hear a lot' and during winter I always wear gloves.
wear gloves.
I got my driving licence six years ago but I don't own a car. When I need one I use my mother's' a green Renault 5. My work's been published in some magazines since 1976. I don't draw much and do so unwillingly. I'm a co−owner of the monthly magazine Frigidare. My father' who's very lazy like me' is the most remarkable watercolourist I've ever known. I'm the best living draughtsman. I love animals but I can't stand looking after them.
I'll die on the 6 January 1984.
Hi mum' hi dad'
I'm back forever
I've stopped taking drugs
and hanging out in bad company I'm here to eat with you
to ask for money for the cinema
to be woken up every morning
so that you can buy me the clothes that you want to with ironed shirts shirts!
I want my little bedroom and to make new friends
and come with you to the beach but only if I'm good!
… Do you remember?
It was summer' we were in the country
and you hung cherries as earrings on me…
But I am the mythical migratory duck'
I am once again perpetual motion'
I'm the dreaming jug'
longing for emptiness.
And if my once arrogant words have become the bookmark of a forgotten volume'
please I ask you: plough my field to discover it.
directed by Giorgio Rossi
with Giorgio Rossi e Vasco Mirandola
and Elisa Canessa' Piera gianotti' Francesco Manenti' Emanuel Rosenberg' Cecilia Ventriglia
musics Mirio Cosottini
production sosta palmizi
08.04.2006
con Vasco Mirandola / Il giardino della Poesia '06 – San Mauro Pascoli (FC)
07.12.2005
Montepulciano (SI)
15.07.2005
Arezzo Wave
10.05.2005
Teatro dell'Archivolto – Genova