Set out
study days on dance and movement for adults and amateurs on the trail of their own bodies
Within the activities carried out on the territory and within the Project in support of the Artistic Residences of the Tuscany Region, the association proposes every year since 2012, a specific path addressed to the citizenship. One appointment a month dedicated to amateurs and all those who wish to approach the culture of movement.
The project was created to offer a service to citizens and lead them into the exciting and beneficial universe of the body and its potential. Open to everyone, the monthly Sunday appointments are conducted by professional teachers who accompany the participants in a simple and respectful path. A space of freedom and trust in which to experience the elementary principles of bodily education and Set out towards a gentle exploration of movement.
The meetings do not offer a particular technique, but involve the body as a whole through relaxation practices, qualities and dynamics of movement and relationship, routes of creative exploration, sharing and reflection in a joyful mutual listening.
A fertile environment to cultivate, with all the necessary care, the awareness of a bodily presence, and a perceptive sensitivity able to develop imagination, amazement towards new and different qualities of listening, nourishing our way of living the body and being in the world.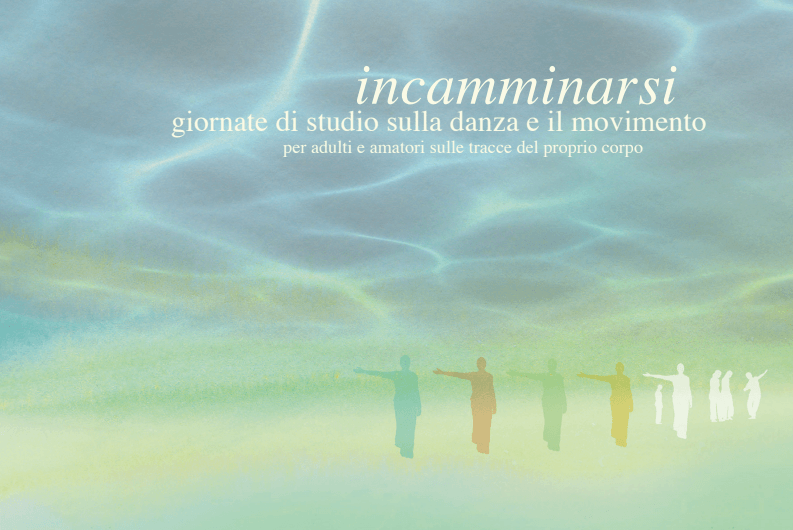 September 2019 June 2020*
Federica Tardito 15 september
Aldo Rendina 20 october
Giorgio Rossi 23-24 november
Elena De Renzio 15 december
Raffaella Giordano 9 february
Doriana Crema 22 march
Elena De Renzio 4-5 april
Giorgio Rossi 17 may
Aldo Rendina 6-7 june
* Since March 2020 appointments have been suspended. A first, new cycle of meetings, from May to July 2020, is taking place on web platforms
Incamminarsi on web will start again in September 2020.
Place Loc. Fratta S.Caterina 125 – Cortona (AR)
Schedule from 10:00 to 17:00, packed lunch, warm and comfortable clothing cost 22 euros per meeting / 35 euros for the weekend.
You can participate in every single meeting or weekend. We are waiting for you!
For enrolment and information Flavia Marini: 347 8851126 from 9:00 to 13:00 formazione@sostapalmizi.it
> Since 2017 the Incamminarsi project has also been supported within the call
Tandem
for proposals of the New Publics Fondazione Cassa di Risparmio di Firenze.