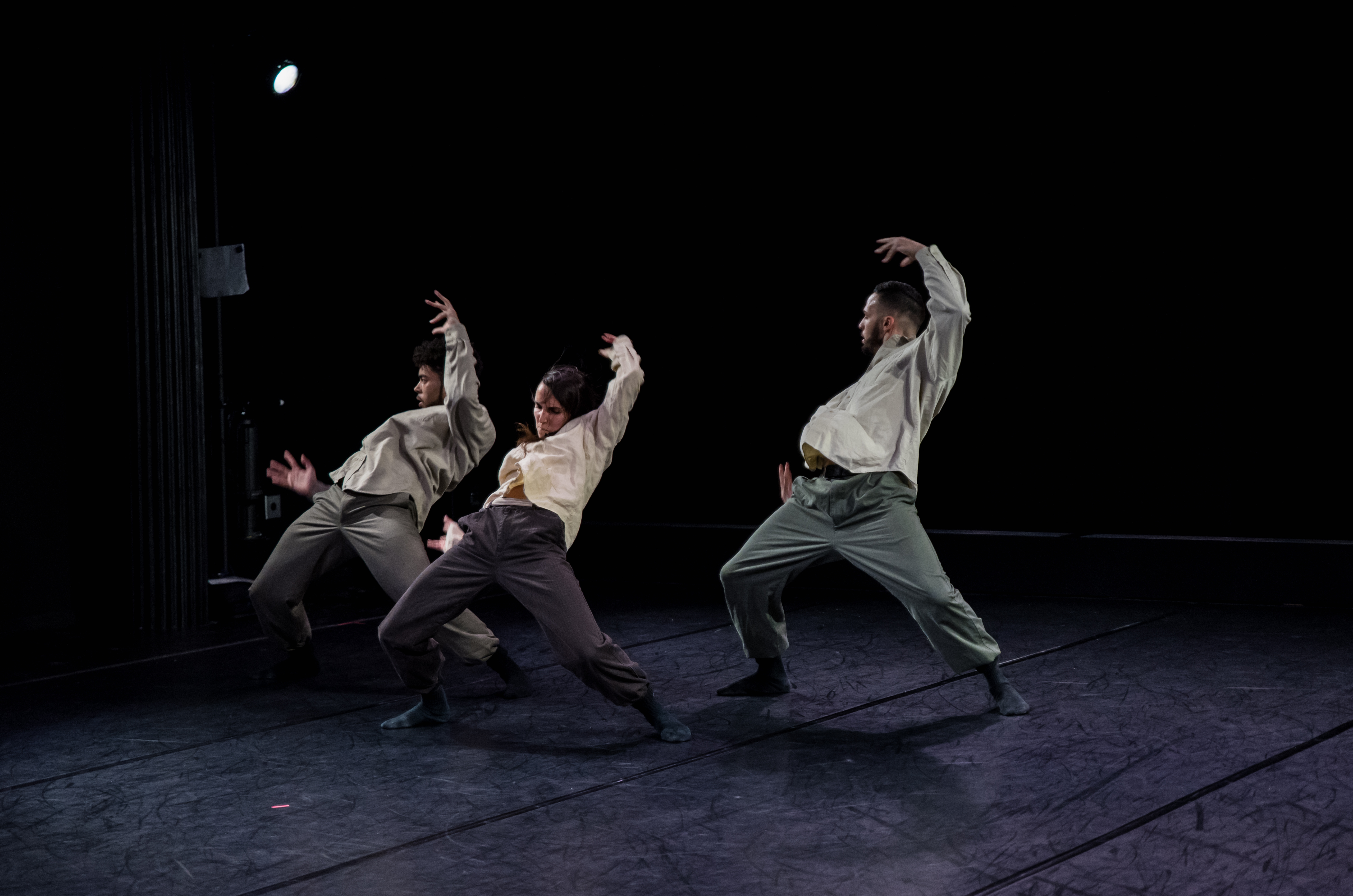 choreography Sofia Nappi
dancers Sofia Nappi, Adriano Popolo Rubbio, Paolo Piancastelli
costumes Sofia Nappi
lights Alessandro Caso
production Sosta Palmizi, Komoco/Sofia Nappi
with the support of New Master Ballet with Sestri Levante City Hall, KOMMTANZ/Passo Nord Residencies Abbondanza/Bertoni Company with the collaboration of Rovereto City Hall
awards Special Mention for Theodor Rawyler 2020 Prize
Selected within l'Italia dei Visionari – Kilowatt Festival 2022

Duration 20 min.
"The way up and the way down are one and the same. He had to descend to the depth of himself and stay there: in that inner darkness without refuge, without hope. This was the only path that would lead him upward. […] None wants to suffer and yet the most fortunate among us get to learn from our suffering. We become clearly, joyously aware of the cause of all sufferings: instead of sleep we remember pain – there is a violent grace that shapes our hands. Humility follows as a natural result. We learn to loose control: we discover that we never had it in first place. It's total surrender to what is. […] It's like a tree that let's go of its leaves: it just stands there in the cold winter, totally exposed, totally surrendered."
Joseph and The Way of Forgiveness by Stephen Mitchell
"Wabi-Sabi", from the Japanese word, offers a world view centered on the acceptance of the transience, finding beauty in the "imperfect, impermanent and incomplete" of our lives. Wabi- Sabi explores our life journey as individuals, who mostly navigate in constant unsatistaction and different states of grief, proposing a deeper understanding behind our existence. The acceptance of the essence of our nature and the beauty that can be found in the apparent imperfection of it, brings constant growth, renewal and joy through the process by moving forward with it and not away from it.