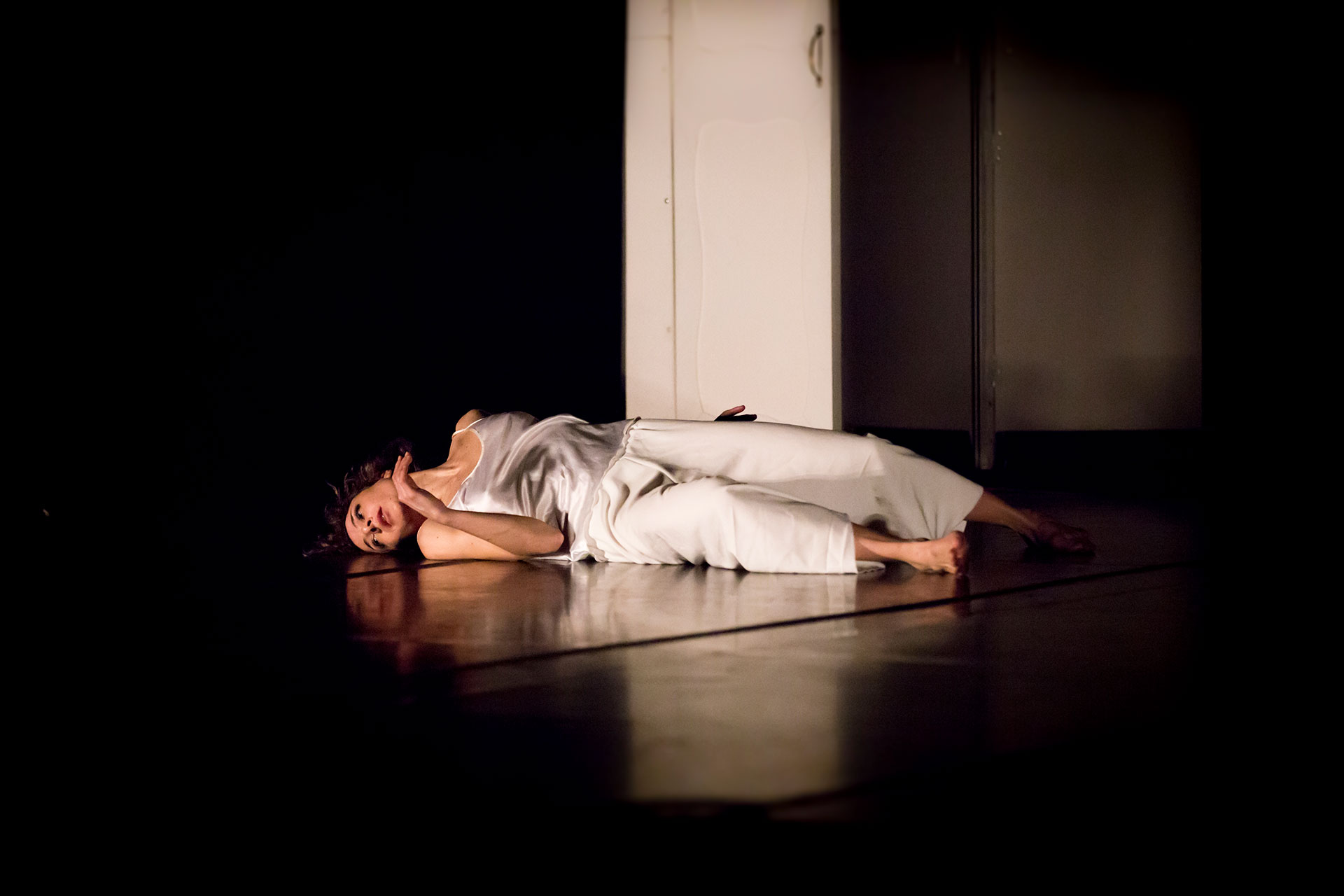 direction, choreography, set design, costumes and interpretation Mariella Celia
arrangements and music post production Alessio Rosi/ Casa Ohm, Guglielmo Enea, Andrea Veneri
lighting designStefano Pirandello
co-production Sosta Palmizi, Atacama
with the support of  Electa Creative Arts, Cie Zerogrammi
To feel you have to lose so many opinions, so much "knowledge": the tyranny of understanding, the empire of reason, the chatter of the discursive mind, conventionality, commonplaces must be shattered or left in the background, with respect, but in the background".
Chandra Livia Candiani
Placing itself on the borderline between comic and dramatic, between theatre and dance, the show stages a dream. The protagonist is a woman in a dressing gown in her room, alone, with only one window on the world: her mobile phone, to which she is obsessively attracted, waiting for a call.
The scenic space is inhabited by a few elements, a table, two chairs and a wardrobe from which the woman is sucked to re-emerge playing with her skeletons, and then face them until the real fight.
Sleep Elevation is the dream in which to fly away from reality and put on other people's attitudes and personalities, to be what we would like to be, wearing the clothes of women that the virtual, social networks and society suggest us as "winning" models.
The awareness of the dreamlike places in which we take refuge, however, can also act as a lifeblood to develop the courage to know and cross our fears and insecurities and finally celebrate and love our authentic fragility.
THEMES
Elevation to the dream and in the dream; overcoming the ugliness, the hardships of everyday life and at the same time elevating the body, which sinks, falls, finding from below, from the earth, the strength for a new momentum. The body is therefore here the emblem of our whole being, that immersing itself in the depths of the soul and in the unconscious places of the mind looks in the face all its fears, insecurities, touches the bottom, to evolve. The mobile phone is a noisy and silent world at the same time, it is the imposition of having to be compulsively connected without ever entering into real contact. In order to recover that intimately relational dimension, one looks in the dream for the place in which to face a journey. In this momentary estrangement one slips into an ironic and tragic dimension, funny and tender, unsolvable in its chiasms, one plays at wearing the identities of the feminine, one comes across the need for pleasure – to a man, to friends, to society. But the oneiric dimension is also the dimension where one can look into the face of one's own skeletons in the closet, face them up to the bone of our unconscious or sometimes just unconscious worlds, to unmask them, and unmask us, to start the change.
direction, choreography, set design, costumes and interpretation Mariella Celia
arrangements and music post production Alessio Rosi/ Casa Ohm, Guglielmo Enea, Andrea Veneri
lighting designStefano Pirandello
co-production Sosta Palmizi, Atacama
with the support of  Electa Creative Arts, Cie Zerogrammi
Multisala Teatro Azione, Roma
T- dannce Festival Cittadella dei giovani di Aosta, Aosta
Teatro del Lido, Ostia (RM)
Festival Orestiadi, Palco Centrale all'aperto, Gibellina (TP)
Teatro Furio Camillo, Roma
Teatro Tor Bella Monaca, Roma
Teatro Spazio Electa, Teramo